The Walking Dead actors talk shaved heads and script knowledge – SDCC Video
Video interview with the actors who play Shane, Lori and Rick of 'The Walking Dead' at the 2011 San Diego Comic-Con. What's with Jon's shaved head?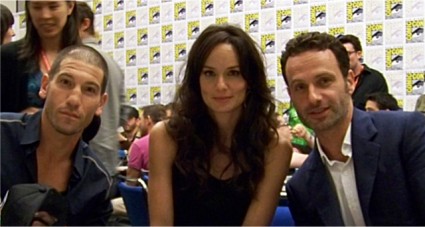 Here are some highlights from the interview:
Sarah discusses character development.
Something to look forward to in the upcoming season? The stakes are raised early.
Sarah gets in-depth about her character Lori Grimes.
The actors talk about their characters' intensities and what they're going through.
You'll notice Jon Bernthal's head is shaved. Is this something we'll find out about in the upcoming season?
Andrew and Sarah discusses Chandler Riggs' character Carl.
How far ahead do the actors really want to know about the scripts?
Photo Credit: Michael Noble