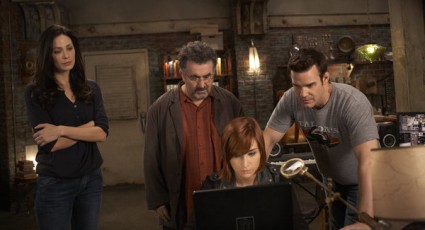 This season's season-long story arc (e.g., the "big bad") was an interesting and plausible premise for the Warehouse, and I'm glad the writers decided to run with it. With all of the artifacts the agents are nabbing away from the public, there's bound to be a couple out there that have powers a person would gladly take, side-effects and all. We've seen that happen time to time, but it was only a matter of time someone would decide that item was worthy of a life-long endeavor to get the artifact back again. What the WH13 agents need is a Men-in-Black-like mind wiping device, so the public isn't seeing them take these amazing artifacts away from them, with their purple gloves and goo.
This finale is reminiscent of the first season finale, when we were left believing Artie perished in the Warehouse 13 tunnel explosion. Back then, I thought it was pretty easy to assume that Artie was holding onto a particular artifact — the Phoenix — in order to stave off death, which turned out to be the case. In this finale, however, things were left a bit less ambiguous; I'm not sure how I feel about that. One one hand, trying to figure out how the show will continue in its fourth season would be some cool talking points for the next few months; on the other hand, maybe we're left with what appears to be the obvious path forward, only to have things turn around on us completely next season.
Take for example Jinks's death. There's no denying he's dead as a doornail, but I can't be the first person to right-away assume that whatever was keeping Marcus Diamond alive would be what brings Jinks back to life. And, just like that, Claudia brings that up as her intent. It removed the guessing for what's to come, when at the same time it's possible it won't happen at all. Though, it would be cool if Jinks were allowed to be an immortal member of the team … but at what cost? Likely he'll be back for at least a portion of the premiere, only to be left to die when an awful side-effect is discovered, or that Steve simply doesn't want to be kept alive with an artifact. Then there's also another artifact. …
That artifact would be the pocket watch, initially given to Artie by MacPherson in season two ("Mild Mannered"). At a moment when viewers could have been left with one hell of a question to ponder before season four commences, we're shown what's likely to simply reverse at least some portion of what transpired within the past couple of hours. Obviously we'll left to believe that the pocket watch can alter time in some way, allowing Artie to rewind back a bit and change what went on, hence rescuing the warehouse and poor Mrs. Frederick … and possibly Jinks. If the pocket watch is able to go back in time, I have a tip for Artie: make H.G. put that force field over the bomb, not you guys! Did that not irritate the hell out of anyone else — that she didn't put the field around the bomb instead of the people?
Speaking of annoying decisions, when Sykes was using the riding crop artifact to control H.G. to aim a gun at his lackey's head, to force him to make the chess piece move … why didn't he just use the riding crop on the kid, to force his hand to move?
It was noted somewhere before that Regents possibly attain their high status because of being affected by artifacts in some way, permanently. I'm starting to wonder if regent Jane Lattimer's artifact "gift" is keep intuition, which she appears to have, along with her son, Pete. Did the artifact's abilities pass onto her son?
Annoyances aside, it was one hell of a finale. I, for one, hope the happenings in these two hours aren't simply wiped away with a simple use of Artie's pocket watch, and instead we've got a whole slew of new things to deal with. A zombie-like Jinks, perhaps? Some insight into why Mrs. Frederick died along with the warehouse's destruction? (My guess is she's kept young and alive via one of the artefacts in the warehouse, and she died when it was destroyed.)
Photo Credit: Sophie Giraud/Syfy