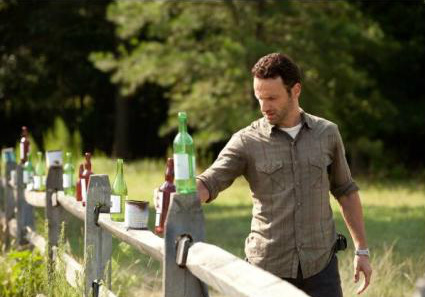 For an episode titled "Secrets," there sure weren't a whole lot being kept, where there?
Glenn drops the bomb to Dale that there are walkers in the barn and Lori's pregnant.
Dale, in turn, confronts Hershel, who suggests he stay hush-hush about it for the good of the group.
Rick finds out about Lori's pregnancy.
Lori confesses to Rick about her affair with Shane.
Maggie breaks down to Glenn that she doesn't want to lose him like she has other family members.
Interesting reveals with plenty of angst and character interaction on The Walking Dead this time around. Maybe not everyone's cup of tea, but you have to admit there was a tone of set-up for things to come.
I'm interested to see where this new additional Rick/Lori/Shane dynamic takes things. The Grimes marriage was strained and cracking before the outbreak. Since, it's roller-coastered widely. And now the revelation of Lori's infidelity gets tossed in the mix. And talk about a two for one deal —  No! Three for one! — with Rick finding out she's not only pregnant but almost losing the child to boot … that's going to give him tons to worry over. Off the top of my head, he's just going to bury it deep down inside him for the time being. After all, he's realized it happened when Lori thought him dead. But the interplay between Rick and Shane going forward is assured of fireworks.
Speaking of Shane, his demons are wearing him down. They're whispering evils in his mind and he's letting them get the better of him. That came to a head with the discussion between him and Dale. "If you think I'd kill my best friend, think about what I'd do to a man I hate," he menacingly threatens. And the look on Dale's face reported true — he knows Shane is completely capable of doing such a thing without blinking an eye.
Just as in the second episode of this season, this airing was one huge character study for just about everybody. It was a Rick/Lori/Carl/Shane/Andrea/Glenn/Maggie-centric deep-dive to see what they're all about in very interesting situations. I know I'll be looking back to this one as basis for things to come.
Notes:
We've seen they eat horse and possum. Chicken must be a rare delight for the walkers, don't you think?
Andrea, from last episode to this one, has come along nicely in the firearms department. But more so, her steely nerves have taken on another dimension with her new-found talent.
Speaking of Andrea, her fling with Shane is going to come back to bite her in the ass. Mark my words.
The Grimes little boy has certainly grown up. And that's what's causing Lori's consternation. She was at breaking point, as evidenced by the morning after pills she gobbled then threw back up.
How did that "lead" on Sophia come about anyway? I'm a little confused over it. Sure, it honed Andrea's skills, but how exactly did she and Shane end up in that neighborhood based on the group's prior discussions about the search?
Quotes:
"By the way … you shoot me again? You best pray I'm dead." – Daryl to Andrea
"What if somebody told you something that someone else …" – Glenn, stumbling through his words while talking to Dale
"Stop being so dramatic. Spit it out." – Dale
"There's walkers in the barn and Lori's pregnant." – Glenn confesses
Photo Credit: AMC