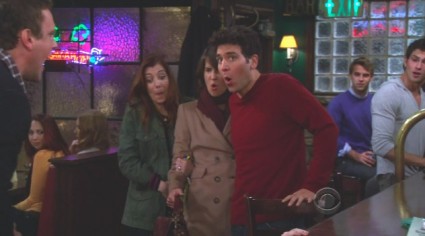 Debbie:
Here we are, deep into season seven of How I Met Your Mother. I pretty much stopped liking it back in season four (I think the turning point may have been the horrible "The Best Burger in New York"), with a few exceptions — why am I still around? I want to say it's for Barney, but lately he's either castrated or over-the-top. It sure isn't for Marshall and Lily, who I never liked. It's not for the depressing storylines of Marshall's father's death or Robin's infertility, that's for sure.
But that's not really what I want this post to be about, because people have been complaining about HIMYM for seasons, that's nothing new. What I want to know is how Bays and Thomas can get the old magic back. Because, really, that's why I'm still around. I remember it, I loved it and I keep hoping that if I watch every week, it will be back.
Bob:
I think my advice to them would be to stop trying to be clever and spend more time being funny. I feel like they have been trying a lot over these past couple of years to transcend the sitcom genre and go for emotional impact. Some shows have been able to do that really well. I think Scrubs is a good example. It was a very funny show and every now and then it could really pull the rug out from under you and punch you in the gut.
I don't think HIMYM has been able to do it as well, and I'm not sure why they are trying. Specifically, I felt that the episode this year about Robin's infertility was emotionally manipulative and not very well done. It's a dangerous game to play.
Aside from that, they're always setting up the next mystery or the next obscure reference. I've watched every episode of this show, and I had absolutely zero recollection about the "slutty pumpkin" before Katie Holmes showed up. I didn't remember any mention. You just can't expect tiny mentions to be remembered enough to have the payoff worth it.
Just. Be. Funny!
Debbie:
Scrubs is an interesting comparison to make. That show was goofy as the day is long, but then it could turn around and make you weep … HIMYM's never done that to me. Do I just not care as much about the characters?
One bone I have to pick with the direction HIMYM has taken is that they used to know exactly how long to milk a joke to get the most out of it, but not to overstay its welcome. One of many perfect examples of this is from "Arrivederci, Fiero," one of my all-time favorite episodes. They did not play "(I'm Gonna Be) 500 Miles" too many times. It was spot-on and hilarious every time, and when they played it that last time, they did it with style. Now? Not so much. The horse is dead, Jim — stop beating it. Or, is it just that the jokes aren't as funny, so we don't want them to come back again and again? Case in point: "Son of a beetch!" Though I do have to give an honorable mention to this season's ducky tie — they nailed it.
Here's my list of advice to Bays and Thomas:
– Slap Bet = funny
– Naked Man = funny
– submarine sandwich = not funny, and no longer even clever
– Stop trying to be deep. No one wants death, infertility or immense character growth from Barney (we want "The Bracket"). Those things aren't funny. It's a sitcom.
– The obscure references can be funny, but keep them within the same season, or thereabouts (like the goat). "Slutty Pumpkin" was from season one, Bob — it wasn't you.
– Make a game plan for the overarching mystery of the mother. Work out the kinks, and the continuity and just stick with it. We don't want a yellow umbrella to suddenly mean nothing, and we aren't forgetting that she was Rachel Bilson's roommate and that she took Ted's class. Make it fit with the wedding please.
– Stop trying to be what you think you should be and just be what you are.
– Continue with the non-linear storytelling because that's one of the things that made us fall for you in the first place … just don't have the storylines be stupid.
Did I forget anything? Can our advice possibly keep HIMYM from sucking?
Bob:
I think you covered just about all of it in that list. I would add something about keeping the characters off drugs because the episode this season with Marshall and Ted high at the concert was the most cliched, uncreative series of pot gags that I have ever witnessed on television. I seriously considered not ever tuning in again after that atrocity. That could have just been me, though.
Debbie:
Not you … see number three on my list. …
What do you think, readers? How can Bays and Thomas get the old magic back?
Photo Credit: CBS