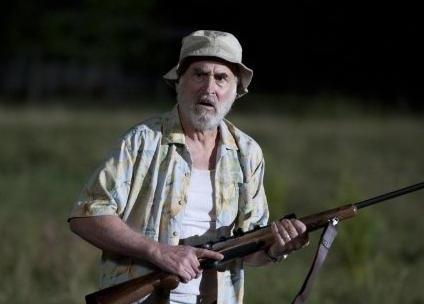 I have a book called "The Book Of Questions." I sometimes bring it out and utilize it when friends and family get together. In a nutshell, the book is packed with many a moral question each participant must answer — questions about our fundamental values and beliefs about ourselves. Of real interest are some of the questions that put you in hypothetical situations and ask you to reveal your basic nature by examining your behavior. It's a pretty interesting book, one which not only challenges your thinking, but can change the way you view life "… without offering a single opinion of its own."
Why do I bring this up? Because that was the entire premise of this episode of The Walking Dead. It was all about moral values and how those values get tested in impossible situations.
Everything about this chapter was pointed right back to Randall and what to do with him. What do you do with him? What would you do with him? Given what we know about Randall and his group, there are just too many unknowns. Unknowns need to be eliminated when they're a danger to the group … as much as they possibly can. And sometimes? That's not so easy.
Especially when your son steps in, right when you're about to make a life-changing decision … right when you are going to eliminate an unknown danger. Rick had to make a decision for the betterment of the group. And he made two that night: He decided to forego the moral aspect of the situation with the safety of the group in mind … and then he decided to eliminate any guilt he may have inflicted from his actions by not pulling the trigger.
Was it selfish? Was it so he didn't have to live with the guilt of a son watching a father commit a reprehensible act he could never take back? Was it to save what little bit of humanity the world has left in it?
I've provided a poll below. Please vote and let's see how you run with the question posed.
Notes:
It's not Carl's actions that are the catalyst for what happens in this episode … but his inactions.
There's going to be a lot of squawking about the television series not following the books with Dale's demise this episode. I'll ask again here: So what?
The change in Hershel from the time we first met him 'til his adamant stance the group should leave the farm 'til the situation in the bar 'til his chat with Glenn giving him permission to marry Maggie … well … we've seen all aspects of the man, haven't we?
Continuing with one of the most interesting parts of the show are those scenes with Daryl: What he's doing, where he's going and what he's saying. Even with little to say, he's a powerful element and influence to the group.
Quotes:
"The world we know is gone. But keeping out humanity? That's a choice." — Dale to Andrea
"No man is good enough for your little girl … until one is. Go on now … before I change my mind about you." — Hershel to Glenn as he gives his his pocket watch and his permission to marry Maggie to him
"You once said that we don't kill the living." — Dale
"Well … that was before the living tried to kill us." — Rick
Photo Credit: AMC