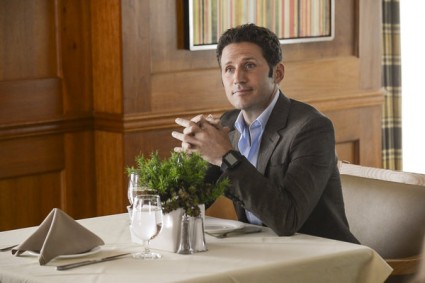 Okay, so despite a few fans complaining about the quality of this fourth season of Royal Pains, I've really been enjoying it. The way I feel didn't change with this episode. After last week's amusing installment, things became rather busy in the Hamptons with storylines that really kept my attention. Personally, I think the writers have been doing a pretty decent job … but that's just me. Without further ado, let's take a gander at what they had in store for Hank this week, shall we?
With Jill out of the picture, it seems that Hank is really making an effort to move on, huh? I like his new doctor friend. I'll admit that she's cute, but I'm not quite sure if they'll make it if Boris keeps calling him off. Speaking of which … what the hell is Boris planning? I mean, seriously? The man is more mysterious than Charlie Townsend. I'm interested in finding out just where Hank and Boris are going in this helicopter of his.
Furthermore, I'm also interested in finding out what's to become of Divya's chauvinistic father. Make no doubt about it, I am glad that Divya stood up to her dad. Somebody really needed to put the man in his place. However, I didn't anticipate him trying to commit suicide. That really came out of left field and was a real shocker. I really hope that he survives and that he and his family can sort out of their differences.
While I'm discussing my hopes and dreams, I'd also like to take a moment to mention that I do hope to see Paige develop a bit more. I like that character. I really do. I think the chick makes Evan a bit more tolerable. Still, is it just me or is she suffering from classic Jill syndrome already — not having nearly enough to do? I kind of felt that she was wallpaper in this episode … which is less than I can say about Evan who had a bunch to do. I like it when episodes focus on Evan's business savvy, and I loved his funny brotherly banter with Hank about which tie to wear for his meeting. That was nice.
On the medical front, I was really intrigued with the woman who couldn't seem to remember the faces of people. I felt sorry for her. I even sent up a prayer for the chick. I figured out her issue within the first thirty minutes though. Perhaps I've been watching too much General Hospital. Or maybe the writers are running out of medical cases. Either way, I was the long lost Hardy Boy because I knew her issue!
This episode was good stuff, folks. Still, as usual, I'm always curious about how you feel. So, what did you think about the latest installment of Royal Pains? Will Divya's father survive? Will Hank find love with the new doctor chick? Will Paige get more screen time? Is Jeremiah growing on you? And what the hell does Boris have up his sleeve? Sound off in the comments below!
[easyazon-image align="none" asin="B0037XPPAM" locale="us" height="160″ src="http://ecx.images-amazon.com/images/I/51AyOuqThBL._SL160_.jpg" width="117″][easyazon-image align="none" asin="B003L77H1Y" locale="us" height="160″ src="http://ecx.images-amazon.com/images/I/41zZWRDTrcL._SL160_.jpg" width="115″][easyazon-image align="none" asin="B007CF6S1Q" locale="us" height="160″ src="http://ecx.images-amazon.com/images/I/51Z4h6eaNaL._SL160_.jpg" width="112″][easyazon-image align="none" asin="B005SZED64″ locale="us" height="160″ src="http://ecx.images-amazon.com/images/I/51cpFLhHzEL._SL160_.jpg" width="112″]
Photo Credit: USA Network