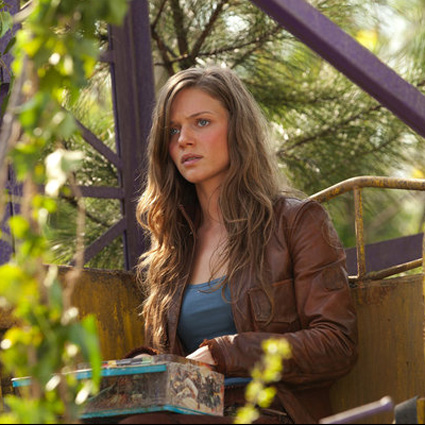 Revolution answers what I've increasingly wondered in the past few years, what would happen if our electric-centered and internet-focused  society suddenly lost power? How would we exist? Considering our modern society has increasingly lost contact with farming and manual labor, how would today's google-oriented children exist without toilet paper and grocery store meat? Remember the saying, only the strong survive? Well, in the Renaissance that applied to today's epi-pen children regarding allergies to peanuts, gluten, pollen and bee stings. Would I really survive in a future tomorrow where today's medical breakthroughs no longer exist? Revolution's answer? Wait and see.
After watching terrible fall pilot (Ben and Kate, Partners) after terrible fall pilot (Go On, The New Normal), Revolution absolutely surprised me. I expected something like FOX's Terra Nova  — a big budget, high concept, sci fi show that relied on  special effects and a grand concept to draw viewers, but spent little time on providing meaty plots and non-stereotypical characters. Instead, Revolution reminded me of the Fall pilot shows I enjoyed the most. Remember the big budget cinema action style of Undercovers' pilot and the tightly plotted amazing-ness of Heroes season one? Remember how you loved The Cape's pilot, the cinema scope of Hawaii 5-0, and thought Lost was really cool? That's Revolution.
Revolution reminds me of every single fantasy novel that I ever enjoyed. It's lush. It's expansive. It's epic. It's cinemagic. Twenty minutes felt like an hour. It's Lord of the Rings meets Wizard of Oz. No. Revolution is not a Hunger Games knock-off, although its female lead, Tracy Spiridakos, is a brunette in her twenties like Jennifer Lawrence. Revolution surrounds Charlie (Tracy Spiridakos), a twenty-something young woman restless with the borders of her village (a former McMansion community turned Renaissance hamlet). However, when her father is killed and her brother kidnapped, she receives her wish quicker than expected.
I have to especially call out Revolution's cinematography, characters and actors in addition to its writing and directing.
Photo Credit: NBC
This Post Contains Multiple Pages: 1
2