Flicks on DVD and Blu-ray – The Three Stooges, Lockout, Singin' in the Rain
New on video July 17 - 'The Three Stooges,' 'Lockout,' 'Salmon Fishing in the Yemen,' 'Casa de Mi Padre,' 'Friends With Kids,' 'Singin' in the Rain,' 'Invasion of the Body Snatchers,' 'High Noon,' 'Camelot,' 'Down By Law' and more!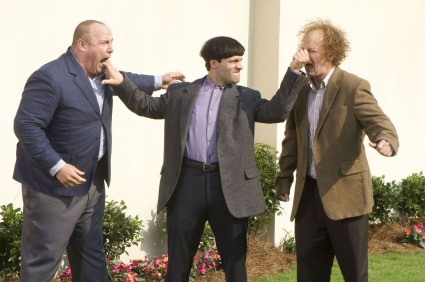 We've got some so-so recent theatricals hitting video this week, including the notorious The Three Stooges. Some people took offense to it, others loved, so it was definitely a polarizing film thats box office reception may be responsible for the probable plug-pulling on the Dumb & Dumber sequel. Well, I enjoyed it and I think it's worth a look … and it's a movie the whole family can enjoy. There are also some major classics hitting Blu-ray this week that any real film buff will want for their collections. Have a look at the grid below to see what's coming on July 17th, and click on the appropriate links for information or to make a purchase!
Photo Credit: Twentieth Century Fox