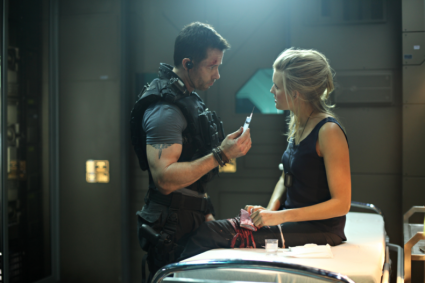 Stop me if you've heard this one before: Girl gets trapped with dangerous criminals, and a lone man must go in to save her. I know what you're thinking, but let me finish. It's all that — but IN SPACE.
Lockout is the latest movie from writer/producer Luc Besson, who also wrote Taken and last year's decent but not great Colombiana. We start in the year 2079, where some things haven't changed, like government corruption and traffic congestion. Ex-CIA agent Snow, played by Guy Pearce (L.A. Confidential, Memento), has been accused of murdering a high ranking military officer, although he claims innocence. At the same time, Emilie, the daughter of the current President, played by Maggie Grace (Taken), is off to visit an new-fangled sort of prison in orbit around Earth. It's a jail in space, with all the convicts locked in a sleeping stasis, and therefore incapable of escaping. Emilie is visiting for humanitarian reasons, worried about reports of psychosis and brain damage for people under stasis.
But that's just setup, of course. Due to classic action movie "stupid mistakes by so-called professionals," every single convict gets released and now Emilie is in trouble. The government would probably blow it out of the sky except for the President's daughter being trapped with the criminals. So they send Snow, wisecracking and sarcastic while entirely uber-competent, to reluctantly rescue the daughter — but only her, not the other hostages. As you might imagine, sparks fly between the two, in more ways than one, with her do-good sort of attitude conflicting with his utilitarian outlook. And his secret MacGuffin subplot he hasn't shared with her. So the pair must try to escape while vicious criminals attempt to track them down.
There's nothing particularly clever or original about this movie, aside from the slightly interesting perspective of space being involved, it's essentially just a "guy rescues girl in confined space" movie. The fun of the movie is the action, which is well done (although the international version is rated R and far bloodier), and the repartee between the two heroes. Guy Pearce is the star of this film with no question, being a complete jerk with a core of decency not so hidden after all, but is quite funny. Several action movie cliches are subverted at critical times, leaving some "Ah, didn't expect that!" moments to be enjoyed. Maggie Grace has a pretty limited sort of character, but she does well with her not entirely well-written dialogue. The supporting players range from decent acting to quite hammy, as is probably to be expected.
Perhaps the R rated movie would have been better (I only saw the US release), but this is a throwback sort of PG-13 movie as well, perfectly in place in the 90's (including its slightly retro take on feminism). It's an above average action movie with some pretty funny lines, which is about as good a recommendation as you can get for most action movies.
Photo Credit: FilmDistrict