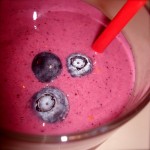 I have strange tastes when it comes to smoothies. Even though I love plain yogurt (don't get me started about the gross flavored stuff), I abhor it in a smoothie. And bananas? They are fine for a snack and in chocolate chip banana bread, but in a smoothie, gross.
You can imagine, then, how I felt about Isabelle's Rookie Cook smoothie… glad she loves it (and probably the rest of the world would too), but not for me. So here I am, compelled — compelled I tell you, to share my smoothie recipe with the world. There have got to be others out there who have bizarre tastes like me, right?
Mango Cherry Coconut Smoothie
1 cup mango chunks
1/2 cup (heaping) sweet cherries
1/4 – 1/2 cup coconut milk
1/2 teaspoon vanilla extract
unsweetened vanilla almond or rice milk as needed to get the consistency you like
optional: green barley powder, handful of spinach, spirulina or chlorella — you won't taste them, but they'll add heaps of nutrition
Add ingredients to your blender — or your Vita-mix if you're hard core like us! — and blend until smooth.
A few tricks:
Buy the mango and cherries frozen (Trader Joe's, baby!), but defrost before using unless you like one of those frozen Yeti smoothies that freeze your teeth… boy, I am smoothie-picky, aren't I?
You can use all coconut milk if you want, but that tends to be slightly too rich for me; I like the almond milk combination, plus it adds some protein.
You can add a dollup of almond butter, too, if you're looking for protein.
This is the most decadent, healthy smoothie… so naturally sweet with the coconut taste that makes it seem like a tropical drink. What the heck — add some rum; it would be fantastic! Oh, and if you didn't notice, this little treat is dairy and gluten-free
Photo Credit: Angie Torres / Flickr