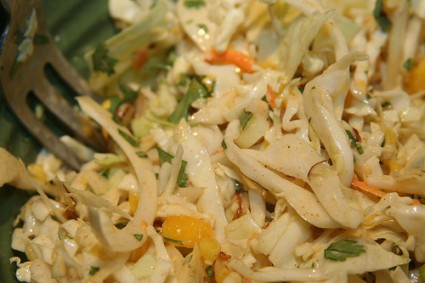 Did you ever create a recipe so good that you were surprised it was actually your brainchild? I do it often, actually. I can never quite believe that tossing together the ingredients in my fridge can yield such amazing dishes. This is not to toot my own horn; If I can do it, anyone can do it. All you need to know is what tastes you like together.
I tend to blend traditional flavors together and then add a unique twist. This time, I made a pretty standard Asian cole slaw, paying attention to the textures — crunchy almonds, creamy almond butter dressing — and the flavors — fresh cilantro and ginger, scallions, red pepper flakes. Delicious, but I couldn't resist adding the mango for a contrasting sweet flavor and that fun surprise.
Mango Cole Slaw


Print This Recipe
Ingredients:
about 6 cups shredded cabbage and carrot
1 cup mango, diced
2 scallions, sliced
3 tablespoons sliced almonds
3 tablespoons chopped fresh cilantro
crushed red pepper flakes to taste (I used 14 shakes, probably about a half teaspoon)
For the dressing:
3 tablespoons rice vinegar
1 tablespoon almond butter
2 tablespoons olive oil
1 teaspoon fresh ginger, minced
Whisk together dressing ingredients and toss all other ingredients together with the dressing. This dish went well with pork tenderloin last night.
The fun part about it is, depending on what you've got in your fridge (or have the forethought to buy), you can come up with endless variations. This would be great with sprouts added, or some julienned jicama. How about some sugar snap peas or snow peas? What would you add?
Photo Credit: Debbie McDuffee