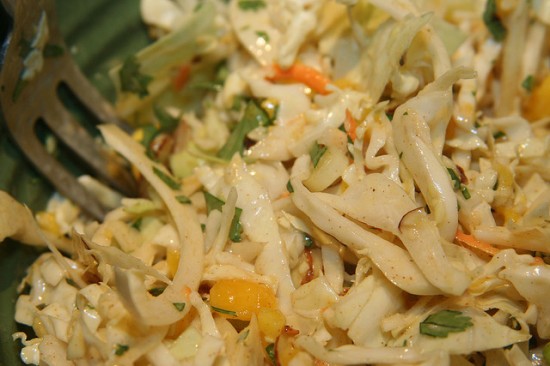 I've been planning this post for a while, but a couple of things have spurred me on. First of all, we have been getting the most amazingly delicious cabbage from our CSA farm. While I adore garlicky Asian cabbage, cabbage and chick pea salad and sweet and sour cabbage wedges, I really enjoy a good, mayonnaise-free coleslaw.
The other reason — I've committed to bringing a coleslaw to a Labor Day weekend cookout, and you can be darned sure it's going to be one that I will eat. Besides, I feel as though it's my duty to expose the brainwashed masses to mayonnaise-free potato salads and coleslaws to open their minds and refine their taste buds. I mean really, people, why would you want to eat something that makes you gag? What do you mean mayonnaise doesn't make you gag? No matter….
This snappy, crunchy vegan coleslaw is gluten-free (probably most of them will be) and bursting with flavor. Cumin, dill, caraway seeds and golden raisins are highlighted by a champagne vinegar and agave dressing. Oh yeah, there's cabbage too.
Clever, clever, clever … this multicolored coleslaw recipe gives you the choice of three different dressings. Depending on your main dish, you can choose a balsamic dressing, and Asian-inspired one or a Mexican fiesta.
This mayonnaise-free coleslaw reminds me of a Waldorf salad with cabbage — it's got walnuts, apples, celery and radish and a simple rice vinegar dressing.
Citrus-spiked jicama and carrot slaw is definitely a new twist on tradition, but with a simple citrus dressing and some chopped fresh cilantro, less is more. Or maybe my very own mango coleslaw has the pizazz you're looking for, with almond butter and ginger in the dressing.
Maybe a traditional Carolina coleslaw suits your fancy more … it's got celery seed, dry mustard, green pepper and onions. Very, very basic, but that's not necessarily a bad thing. Emeril's delta coleslaw is a souped-up version of this.
Now we're talking different again, but this recipe for mayo-free coleslaw is really interesting. Mandarin oranges, pears, raw garlic, tamari sunflower seeds, cumin seeds and lemon juice jazz up cabbage in an intriguing way.
I just realized, in looking at this recipe for spicy no mayo coleslaw, that I've never had a spicy coleslaw before. It might just be time to remedy that, however I'd probably use some peppers a little milder than habeneros!
This recipe for mayo-free cabbage salad combines a few of the ideas here into one salad — some citrus, some carrots and apple, agave syrup and a new ingredient: sesame seeds. This one sounds really good to me.
As does this parsnip and apple coleslaw … there's still cabbage, but a honey-laden dressing, parsley leaves and walnuts mae this one special. Plus, I can really appreciate how this blogger goes on about the indignity of mayonnaise. And now we've come full circle, and I've got a new mayonnaise-hating friend.
Photo Credit: Debbie McDuffee