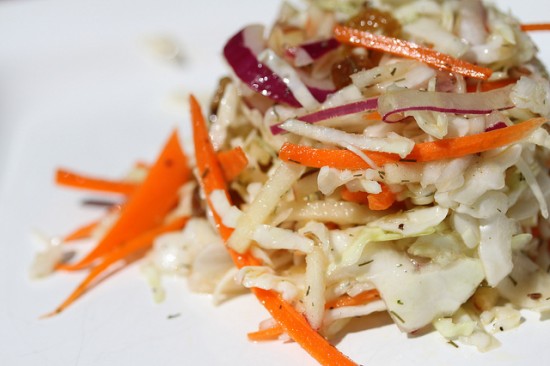 I mentioned the snappy crunchy vegan coleslaw in my coleslaws for the mayophobic post, and it was ultimately the recipe I decided to cook for the Labor Day weekend cookout to which I was bringing the cabbage goodness. It was an easy recipe to make and there are a couple of things I really liked about it.
First off, I never would have thought to put dill, caraway seeds and cumin together, but it works. This was a really flavorful slaw. The herbs and spices were set off by some sweetness — the agave nectar, golden raisins and apples. The dressing was kept simple, just a drizzle of olive oil and champagne vinegar.
I only had green cabbage, and although the red onion and carrots add some color, next time I would mix in some red cabbage as well, as the recipe recommends. You can't have too much pretty, right?
I'd recommend this simple, tasty recipe and I'd definitely make it again.
Photo Credit: Debbie McDuffee