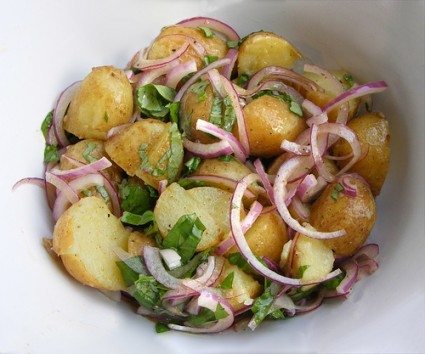 Who doesn't love a good cookout? Whether it be a rare steak on the grill or the ultimate burger, there's something about cooking and dining outdoors with friends and family that makes the perfect get-together. And while I'm admittedly a total food snob, I only really have one problem with the traditional potato salad served at most of these shindigs: mayonnaise.
I've written in the past about my mayophobia, but it doesn't have to ruin cookouts for me. I've thankfully got friends and family who are food snobs too, and they are all too happy to satisfy their guests with a gourmet potato salad. Since most of them are mayo-free by nature, everyone is happy.
Here's an outstanding collection of mayonnaise free potato salad recipes that are family favorites, close approximations or simply made me salivate:
Grilled potato salad with watercress, green onions and blue cheese vinaigrette — I have a gastronomical crush on Bobby Flay — can you blame me?
Roasted green bean and potato salad with radicchio — My dad makes two amazing potato salads, one with green beans and pesto, the other with grilled potatoes, zucchini, and radicchio. This one's a combination of them both.
Pesto potato salad with green beans — Here's the recipe my dad uses.
No mayonnaise potato salad — This one's got black olives, red onion and a mustard dressing. I'd add some fresh parsley or basil too.
No mayo potato salad — Rachel Ray and I seem to share a common loathing for mayonnaise! She uses capers, chopped red pepper and celery and lemon juice and zest to flavor her potato salad.
Lebanese potato salad — C'mon, with fresh mint and a dash of cinnamon … it's full of the yum factor.
It's a win-win when you make one of these potato salad recipes for your cookout. The mayophobic in your life will love you!
UPDATE: I couldn't resist sharing more mayonnaise-free potato salads with you, so check out the post, "More potato salads for the mayophobic," with 12 more mayonnaise-free potato salad recipes.
ANOTHER UPDATE: It's a sickness — check out 9 more recipes in the post, "Even more potato salads for the mayophobic."
Photo Credit: FotoosVanRobin / Flickr