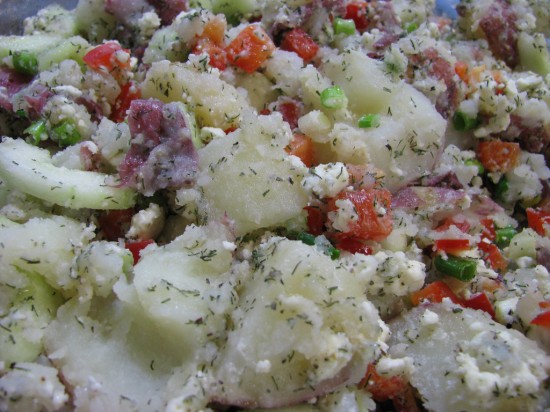 I realize that I have a problem. My abhorrence for mayonnaise has become a fell-fledged obsession with mayonnaise-free potato salads. And why not? With any of the recipes I've tried and posted in the past, I've never once felt shortchanged or disappointed. In fact, I know many people who make potato salad without mayonnaise just because they are lower in fat and calories and actually taste better.
My theory is that the lack of the traditional mayonnaise brings out the creativity in the recipe creators. But that's my gain; if they want to overcompensate for the missing ingredient by giving me flavor combinations like the ones below, I'm all for it. Step aside, mayonnaise and pickles — potato salad just got better.
Roasted onion and sweet potato salad really tempts me — doesn't the combination of sweet potato, bacon and mustard sound divine? Don't forget the sweet potatoes and onions are roasted, not boiled and raw. There's some green pepper for crunch too.
This Caribbean sweet potato salad is great — I made this one. I like that it's sweet potatoes and regular potatoes combined, and I'd highly suggest making this one ahead of time. The night I made it, it was just okay, but two days later, when all the flavors had time to meld, it knocked my socks off.
This layered potato salad with creamy avocado dressing is an over-the-top beauty. It's made with three different colored potatoes (orange, white and purple) and layered with a veggie and olive … for lack of a better word, tapenade. I'm betting this one is delicious as well as gorgeous.
Are you looking for simple? It doesn't get much easier than this potato and orange salad. Consisting of only six ingredients (and salt and pepper), I'm betting the flavors blend perfectly. Potato, orange, pimento, red wine vinegar and olive oil and onion … can't be bad! I would have a very difficult time not adding a few capers to this one though….
I love hummus. I love garlic. How could anyone go wrong with this Mediterranean garlic hummus potato salad? You'll also find plain yogurt, pine nuts, parsley and lemon juice in this fine salad.
Now here's a different one for you … blissful red anjou potato salad combines potatoes, pears, macadamia nuts, coriander and a very simple rice vinegar dressing. That sounds like a balance I've got to try.
Anyone hankering for an old fashioned German potato salad? Yoo-hoo, Bob, it's got bacon….
This French potato salad is simple and elegant, with sliced potatoes instead of chunked and shallots, mustard, lots of fresh herbs and a champagne vinaigrette.
Yummy — this balsamic vinegar potato salad, with roasted red peppers, black olives, artichokes and oregano sounds delicious, easy to prepare and kinda impressive. It reminds me of a pasta salad but with potatoes instead.
Don't forget to check out gourmet potato salads for the mayophobic and more potato salads for the mayophobic. Enable my potato salad OCD.
Photo Credit: NatalieMaynor / Flickr