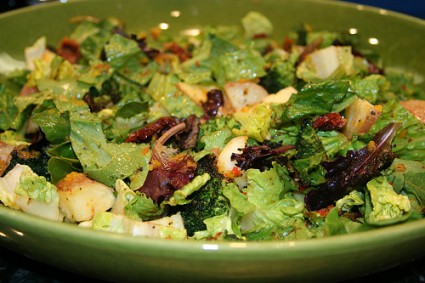 What's a gal to do when the beans she was planning on using for the salad nicoise were slimy and slightly fuzzy? Don't judge me; from my lackadaisical refrigerator-cleaning skills came a dinner of brilliance, I tell ya.
Improvisational cooking often brings about the best meals in our house. Isn't that a lovely term for the "oh crap, I don't have the main ingredient for my recipe so I'll have to reinvent the wheel" meals?
I may not have had the beans, but I did have some broccoli, roasted peppers and sun dried tomatoes, so it didn't take long before a funky new dinner salad was created.
Roasted Broccoli Salad
Ingredients:
6 small potatoes
6-8 sun-dried tomatoes, sliced
mixed greens (I used romaine and mesclun mix), enough for 4 servings
broccoli florets, about 5 cups
For the dressing:
1/3 cup roasted peppers, pureed
2 tablespoons cider vinegar
2 tablespoons red wine vinegar
1/4 cup olive oil
1 teaspoon garlic powder
1 teaspoon dried basil
Begin by tossing the broccoli in olive oil, spreading on a baking sheet and roasting in a 400 degree convection roast or a 425 degree bake oven for about 20 minutes. If you don't have convection roast, flip once.
Reconstitute sun-dried tomatoes in hot water. Slice just before serving.
Cook the potatoes in the microwave for five to ten minutes, or until just done. Don't make mushy potatoes.
Whisk together the ingredients for the dressing, and toss everything together.
We served this salad with some grilled orange roughy, which loved the roasted peppers in the dressing — a lot! This was also just as good the next day for lunch. The mesclun greens were slightly wilted but it worked for some reason.
Photo Credit: Debbie McDuffee