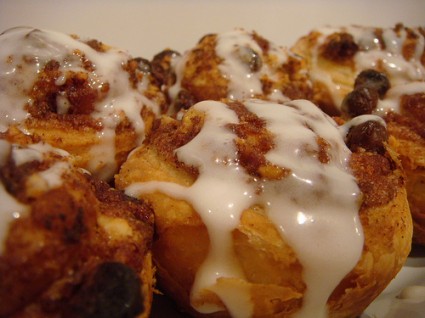 Everyone loves baked goods, right? Even those of us who are watching our carbs can live vicariously by reading these unique recipes (but I'd give anything for just one bite of coffee cake…). I've truly never even heard of two of them, and the other is an old favorite that's been republished.
I'm pretty glad that some healthy, low-carb recipes came my way this week too, and I'm pretty sure the green bean salad would make a fabulous side dish for the raspberry chicken. Heck, serve the creamy carrot soup as an appetizer and you've got yourself a menu!
Summer green bean salad – It's fun to see that Heidi Swanson does her version of Reverse Menuneering — she based this recipe on one she fell in love with at a new-ish restaurant called Contigo. Frisee, cherry tomatoes, roasted hazelnuts… what a combination.
We know that Cate's dad loves her cinnamon rolls, but when this recipe for Yukon gold cinnamon rolls crossed my screen this week, I admit I was more than a little curious. Supposedly the potatoes make the rolls moist and tender, but all I'm thinking is HEAVY. Anyone ever try anything like this before?
A dense bread made with honey and slathered with a chick pea spread before serving… now that sounds like a breakfast I can get into! Dabo is Ethiopian honey bread, and it's also got rosemary in it. I can just plop these ingredients into my bread machine, right?
This raspberry chicken sounds like an interesting blend of flavors, and a really easy recipe to boot. It does read as though a 6th grader with literacy issues wrote the directions, however, so know that going in. Since it's an easy recipe, it's not a big deal, but I'd like some serving suggestions since they are touting this as a one-dish meal.
I'm so glad to see Mothering re-publishing this recipe for Sunday coffee cake, since it's been a favorite of mine for years. The magic ingredient in this buttery delight is the cardamom… this will become a favorite of yours, too.
I just can't let this week's Recipe Roundup go by without a mention of the creamy carrot soup that sounds too good to be true. It's not your run-of-the-mill carrot soup: it's got kombu, tahini, miso and fresh herbs.
What recipes got noticed by you this week?
Photo Credit: meghan.chromik / Flickr