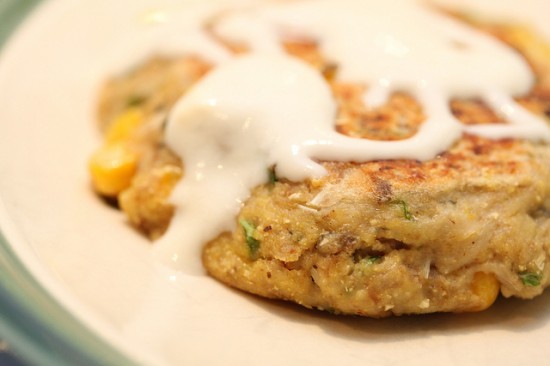 I love how the best recipes are sometimes borne of desperation. I forgot to take something out of the freezer and then on the way home from the CSA farm, I forgot to stop to grab some meat. Since the men (OK, the boy and the man … or should I just say the boys?) don't really think it's a meal unless there's a dead animal on the plate, the idea of a vegetarian meal was not well-received.
Enter the desperation, because all I had was some canned salmon left over from sprinkling on my salad for yesterday's lunch. I also had some ground spices that Keith didn't use up the other night when he made a crust for grilled salmon (he swears he'll post the recipe test drive). Add some fresh cilantro, this and that and salmon cakes that were good enough to serve in a restaurant magically appeared on my family's plates.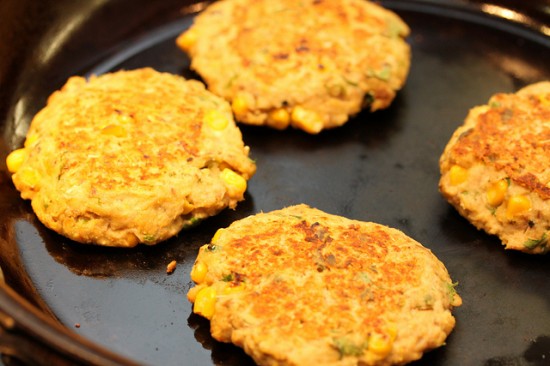 Salmon Corn Cakes

Print This Recipe
Ingredients:
about 1/2 pound salmon (I used canned wild Alaskan salmon with skin and bones)
1 egg, lightly beaten
1 teaspoon ground coriander, cumin and sesame seeds (mixed)
1/2 cup corn kernels
3 tablespoons chopped fresh cilantro
2 tablespoons corn meal
For the sauce:
1/2 cup plain yogurt (whole milk organic)
1 tablespoon lemon juice
Mix the ingredients for the patties in a large bowl. This was absolutely the perfect ratio for us, but if you need more liquid, add a bit of lemon juice. If you need more texture to keep the patties solid, add more corn meal.
After mixing well, form into patties (it made 4). Cook over medium low heat in an oiled skillet until both sides are browned, flipping once during cooking.
Meanwhile, whisk together the yogurt and the lemon juice and serve sauce with the patties.
You could definitely add some chopped onion to the patties and some raw garlic to the sauce — I'll do both of these things next time.
Granted, the five-year-old squeezed ketchup all over his patty and ate it with his hands, but he loved it and it was the first thing gone from his plate. This says a lot since it was served alongside this potato salad, potatoes being the most revered food in the universe by the spud-worshiping child I am raising.
Photo Credit: Keith McDuffee, Debbie McDuffee