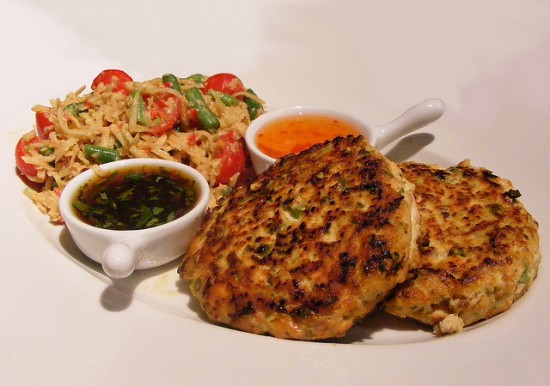 With just a few alterations, this salmon cakes recipe could become a stand-by for me, using what we have hanging around in the pantry and fridge. I'd just throw in a 16-oz. ounce can of wild-caught salmon with skin and bones — so healthy and sitting on the second-to-top shelf of my pantry closet at any given time. There are capers right in the cakes, which is pretty close to a perfect idea. You all probably know me well enough by now to know that the sauce will be made with plain goat's milk yogurt and no mayonnaise. Throw these babies down on a bed of greens and you've just prepared a dinner I'd be happy to eat.
These low and slow oven-baked ribs I have made, and don't let the simplicity fool you — this recipe has everything you could want in a non-smoked rib recipe. We served them with lots of BBQ sauce and this coleslaw and some oven-roasted fries.
The reason this recipe for sea salt-baked potatoes intrigues me is not just because it's Heidi Swanson's. It's because the potatoes are stuffed with arugula and then slathered in a dressing-like sauce and I just think that's a fine way to serve a baked potato. The only thing missing for me would be a ton of fresh chopped chives.
Photo Credit: FotoosVanRobin / Flickr