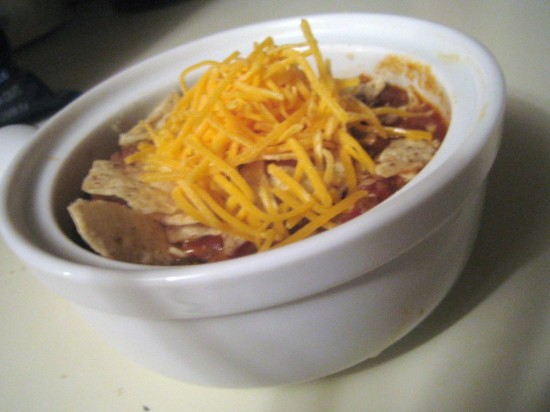 I've worked on this recipe for a couple years now and while I'm always tweaking it, this version is the newest and so far the best. It's even boyfriend-approved, which is tough when you're dating a chili connoisseur. I don't mess around when it comes to comfort foods and let me tell you, this is one delicious dish.
What I really love about it is how easy it is! All you need are basic knife skills for the onion and garlic and patience for the slowly developing flavors. The base of the chili is salsa — I normally get the store-bought stuff, but if you have a great salsa recipe, by all means use it! I suggest using a salsa you've tried before so you know how spicy it'll be. You might notice that this is a big recipe … that's because it's ten times better the day after and I always want to make sure I have leftovers.
Almost-From-Scratch Chili
Approximately 15 portions
Ingredients:

2.5 pounds lean ground beef
2.5 cups diced onion
5 cloves garlic, finely chopped
3 (16-ounce) cans kidney, pinto or black beans, drained and rinsed
6.5 cups salsa, homemade or store bought
2 (4-ounce) cans diced green chiles, drained
15-ounce can diced tomatoes, undrained
5 teaspoons chili powder
1.5 teaspoon ground cumin
1 cup chicken stock or water
½ cup brown sugar, packed
salt, to taste
shredded cheddar cheese
tortilla chips
Brown and drain the ground beef in a large pot. Add the onion and garlic cook for about 3 minutes, stirring frequently. Add the beans, salsa, chiles, tomatoes, chili powder and cumin. Add enough chicken stock/water to get the desired thickness. Stir in the brown sugar and bring to a boil. Reduce heat to low; cover. Cook, stirring occasionally, at least 1 hour. Check for seasoning (although you shouldn't need much salt at all). Garnish each portion with lightly crumbled tortilla chips and cheese and, most importantly, enjoy!
Photo Credit: Katie Schenkel