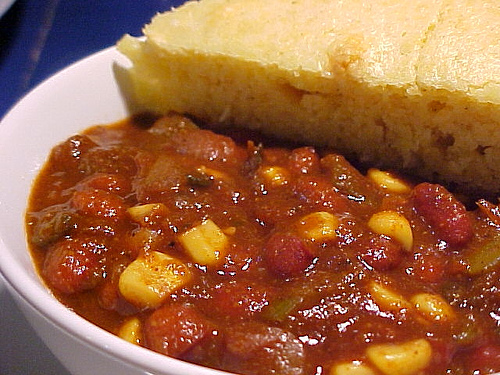 I love chili. Just ask my parents. They like to tell the story about how I used to eat chili when I was a wee little boy of two years old. To this day I still love chili in just about all its forms: Texas chili, vegetarian chili, white chili — it's all good. I always go back and forth on what to serve with chili, though. I'm not talking about condiments, that's not hard. You have the standard cheese, green onions, sour cream, maybe some chopped cilantro. No fuss, no muss. No, things become a little more difficult when you start talking about the bread to serve with it, if you serve bread at all.
As I see it there are three fairly common accompaniments:
Bread: With chili, I like a nice fresh sourdough. It has enough flavor to stand on its own, but can also be dipped into the rich spicy chili while you're waiting for it to cool. It doesn't have to be sourdough, but when I'm eating chili with bread, it definitely has to be crusty. The crustier the bread, the better. I find that the crisp crust of the bread adds a welcome texture contrast to the chili.
Corn Bread: Corn bread is another popular partner for chili. For some reason, I never think to serve corn bread when I have chili. I think at the end of the day, I just want something that I can dip into the stew. Even though you can't really do that with corn bread, it does have something to offer. The sweetness of the corn bread is a nice contrast to spicy chili and can help balance out the palate.
Corn Chips: I really love blue corn chips with chili. It's usually what I serve with the spicy stew. Chips give you great eating options. You can scoop up the chili and eat it with the chips, you can just dip the chips in the piping hot broth, or you can just eat them separately for a salty change of pace. I usually opt for the blue corn variety because I love the added dimension of flavor that the blue corn adds.
I know chili is one of those dishes that people feel passionate about. Everyone has their favorite recipe and favorite way of eating it. I know someone who swears that chili is best if you freeze it overnight and then thaw it out. So, what do you like to serve with your chili?
Photo Credit: serenejournal/flickr