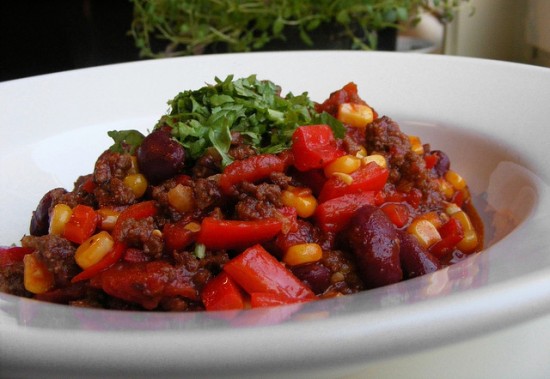 Let's just get this out of the way right now — you know you're going to make chili for the Superbowl, so why fight it? Buffalo wings and nachos, however appealing, will be gone before halftime and you're going to need something hearty to make it through.
Jamie Oliver's green chili, made with pork and green peppers and sage has fast become one of our favorites. A couple of unique twists, like fresh mint and chopped lettuce, make this a healthy, crunchy chili with a delicate yet hearty flavor.
Apparently this is the best chili you will ever taste. I've got to admit I fell for it, what with the coffee, beer, cocoa and sirloin.
Jeff will tell you that vegetarian chili is really just vegetable soup. The ingredients in this vegetarian chili are pure and wholesome and flavorful — it doesn't matter what you call it, it's worth eating.
Spicy pork and black bean chili is definitely spicy (what with the chipotle chili powder and all), but served over rice with some sour cream and it's perfect.
It took me a long time to perfect this crock pot chili recipe, but I'm so glad that I did. I've really got quite a love affair going with my slow cooker and most chili recipes before this one were mushy and wet and fairly flavorless. In fact, I'm making this one tonight … no need to wait for the big game!
We've made this recipe for chicken and corn chili several times now and it always come out great. It's another slow cooker recipe, with lots of cumin, white beans and cheesy goodness. Sometimes we sprinkle on fresh cilantro too.
Katie's almost from scratch chili uses salsa as a base, with diced green chiles and brown sugar … imagine the flavor infused into that chili!
If it's meat and meat alone that you crave, chili con carne is your answer to the perfect bowl of chili. This recipe has cubed meat (not ground), beer, allspice, cinnamon, cumin and cloves to lend it its unique flair.
Alright, 'fess up — which chili recipe will you be making?
Photo Credit: FotoosVanRobin / Flickr