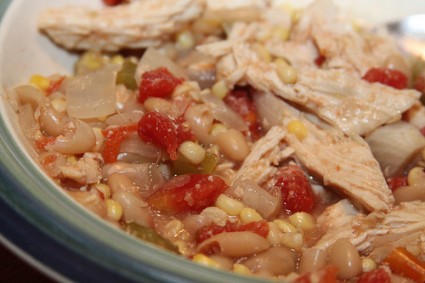 It's that kind of week, and my crock pot is working overtime. I was getting a little tired of our old recipes, so I've branched out and tried a couple of new ones.
In the past, I've avoided chicken breasts in the crock pot because of texture issues. I've found that they become gross and stringy and immensely unpalatable. So the only reason I attempted this chicken and corn chili recipe was because I had the ingredients and I like chili. That's not entirely true; I figured since you shredded the chicken once it was cooked that any texture issues would become obsolete.
The texture of the chicken was fine (although I'd definitely try this recipe with ground chicken or turkey too) but what really made the texture special for me was the addition of the corn. The rest of the ingredients were like any good chili: a bit mushy. The corn added a nice pop that broke up the texture of the softer ingredients. I love contrast.
I didn't change a whole lot of things as I made this recipe. I used my Better Than Bouillon veggie base and water in place of the low sodium chicken broth, and replaced the jalepeno with a tablespoon of fire-roasted chiles. I can say that if at all possible, don't skip the cornmeal, because it adds a nice heft to the sauce. Who wants watery chili?
This recipe was so easy to make and was a hit with my whole family. I'd make it again, for sure.
Photo Credit: Debbie McDuffee