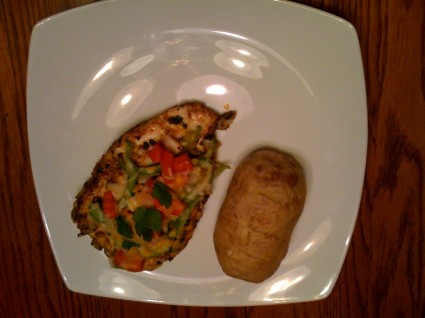 If you're looking for a new way to spice up plain chicken breasts, look no further! I have a great recipe I want to share with you.
A special on boneless, skinless chicken breasts at my favorite grocery store led me to buy two packs of it, about 4 lbs. of chicken.  I had a recipe in mind, but wanted to change it up a little. I scooped up some cilantro, added a couple of ripe plum tomatoes and a green bell pepper to my cart, and smiled.  I knew the rest of the ingredients were safe at home.
Easy Cheesy Chili Chicken by George Stella is a recipe you'll want to make time and again.  I tweaked it a little, leaving out the cayenne pepper, which would make it too spicy for my family.

Print This Recipe
Laying out aluminum foil on my jelly roll pan, I started prepping the ingredients.  While it took me about 15 minutes to wash, chop and cut everything, that's the hard part right there.  I whisked together into a delightful concoction the following:
4 tablespoons EVOO (extra virgin olive oil)
5 tablespoons chopped fresh cilantro leaves
1¾ tablespoons chili powder
2 mounded tablespoons ground cumin
3 teaspoons kosher salt
2 cloves garlic, chopped
½ tsp. freshly ground pepper
4 lbs. boneless, skinless chicken breasts
I left the cayenne pepper out of the mix. You may add it if you like things spicy.  I took my chicken breasts, placed them in a big plastic bag, and pounded them with a meat mallet until they were all one thickness.  Pounding meat with a mallet is a great way to get out the day's frustrations. Of course, if you don't have a meat mallet, simply halve the chicken breasts as the original recipe states.
Taking the pounded chicken breasts, I put them in the bowl and coated all the chicken with the spicy and fresh EVOO mixture.  Using my tongs, I took each chicken breast and laid them all on the jelly roll pan.
What makes this dish really impressive is the heaping pile of julienned vegetables, topped with cheese.  I julienned more green bell pepper, used white onion instead of red, and used a lesser amount (and 2% version) of Colby-Jack cheese.
Top each chicken breast with a portion of the delicious veggie mixture:
¾ cup julienned green bell pepper
4 tablespoons diced white onion
2 plum tomatoes, diced
4 oz. shredded 2% Colby-Jack cheese
Bake from 20-25 minutes at 400 degrees (or until done) and voila!  What a beautiful dinner, paired with baked potato.
It's a story of the ugly duckling turning into a swan.  Plain ol' chicken breast is given a kicked up twist.  The chicken is a little spicy but not overly so, while the cilantro and the green bell pepper and onion give it an addictive taste.  It's so good that there will be silence at the table.  You know that kind of silence?  If you strike a home run with a recipe, your family forgets to talk while at the table.  All you hear are the clinks of the forks and knives. Even better are the delicious leftovers the next night.
So, try the recipe, tweak it to suit you and your family, and let me know what you think.  What are some new (or old) recipes you're trying out when you see a particular meat on sale?
Photo Credit: Kelly Estes