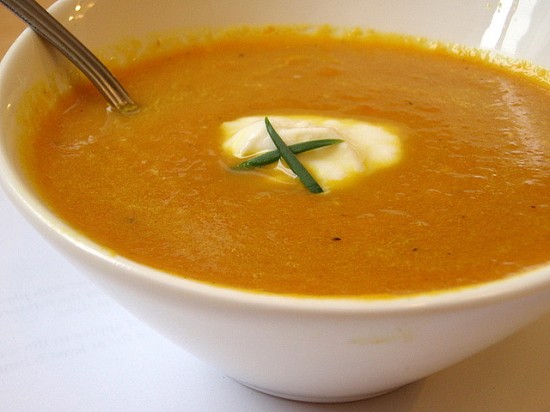 I may not be writing much lately, but I have been cooking. I'll get my original recipes posted at some point, but here's a little taste of some recipes from around the internet I've recently tried out.
I mentioned this curried carrot soup in my recent post about souped-up carrot soups, but at that point I hadn't tried it yet. I loved everything about this recipe. It was the perfect flavor, the perfect texture … the coconut milk, curry powder and fresh ginger was the ultimate combination and my lunches all last week were divine.
This roast pork with garlic and rosemary was incredibly flavorful. We served it for guests with the fig and port sauce I created for roast chicken. This too, is a keeper.
If it's possible for this fragrant orange chicken to be tastier than the recipe and description implies, then it was. We didn't even marinate it for 2-4 hours like the recipe calls for and it was still incredibly tasty. It was a huge hit with the 6-year-old too, so we'll definitely be making this again.
I've fallen head over heels for Jamie Oliver's green chili. It's different — made with ground pork and sage, with lettuce, scallions and fresh mint. Yes people, it's a super-healthy chili. Get over it and try it.
Braised beef with carrots is such a simple and delicious recipe … and oh-so-French! I could only think of Julia Child as I kept dumping more wine into the pan. We served this with mashed potatoes and a salad.
And this … this would top off any of these meals to perfection. I had been wanting to try to make a coconut milk flan (or creme brulee, which is next) ever since we discovered La Tartine Gourmande's recipe for baked lime custards. It was easy and delicious, but next time we're going to try to spike the caramel with some Chambord and serve it with fresh berries.
Photo Credit: joyosity / Flickr