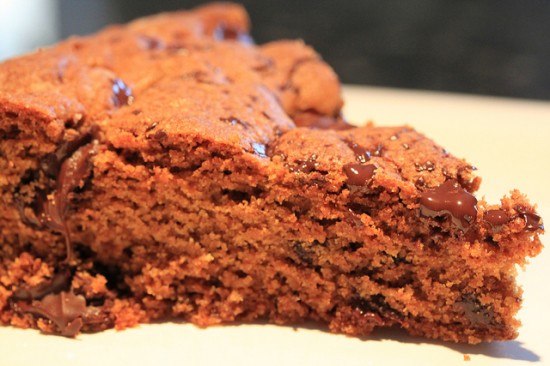 I haven't been writing a lot, but I have been cooking … and creating … and baking. Oh, the baking. And when life stops getting in the way of my food blogging, you just may hear about some of the recipes we've been enjoying.
For now, I'm sharing the skillet cookie that has basically taken over my life. It's pretty much Heidi Swanson's whole wheat chocolate chip skillet cookie with 2 and 1/2 cups of whole spelt flour and 1/2 cup arrowroot instead of the whole wheat flour and about 1 and 2/3 cups of palm sugar instead of the 2 cups brown and white sugars.
This isn't a skillet cookie like these skillet cookies, which you actually cook on the stove top. It's called such because you bake one giant cookie in a skillet in the oven, much like you'd do cornbread. And I've learned some tricks from making this recipe so many times. …
First, this recipe halves very nicely and fits perfectly into a 9-inch cake pan, if you want a smaller cookie. The full-sized recipe easily serves 12-16 people, so you decide how many leftovers you want.
I also didn't have an oven-safe skillet large enough for the full-sized recipe, so I used a 12-inch springform pan and it worked great. The edges still got cookie-crisp and it was thick enough to slice like a cake.
If you substitute with just straight whole spelt flour, it is a bit crumbly, but the arrowroot helps with that and I'm betting you could use tapioca flour with the same results.
You can serve it after it's had some time to cool but when the chocolate bits are still melty, or it's also easy to make ahead and reheat in a 200 degree oven for about 10 minutes to get the same effect.
However you do it, just make it. It will probably take over your life too.
Photo Credit: Debbie McDuffee