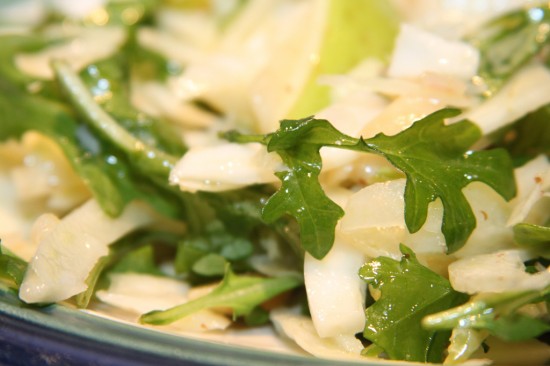 Bea's radish salad with apple, egg, avocado, egg and shaved Manchego is the most delectable combination. With a light honey-mustard vinaigrette, it's the perfect healthy summer treat.
I love everything about raw fennel in a salad, but you pair it with arugula and you've won me over tenfold. Thinly sliced zucchini, honey, pine nuts and feta and I'm swooning.
Celery, apple and fennel slaw might just be the perfect medium for celery … other than potato salad and soups of course. It's fairly simple but would accompany many main dishes well.
I enjoyed the sugar snap peas from our CSA Farm so much that they didn't even last long enough to make them into this sugar snap salad (and we had plenty!). It still tempts me, though, with its radishes, feta, mint and sumac (a lemony Middle Eastern spice).
As much as I love Heidi Swanson, I'm just not sure about this raw corn salad. Raw corn and shallots, tossed with a lemonade vinaigrette and fresh oregano and seeds. I just don't have much more to say beyond I'm not so sure about that. However she more than makes up for the questionable-ness of that one with her to-die-for sounding macaroni salad. You had me at arugula, Heidi, but the apples and parmesan sealed the deal. Add this sesame yogurt pasta salad and Heidi's back on track!