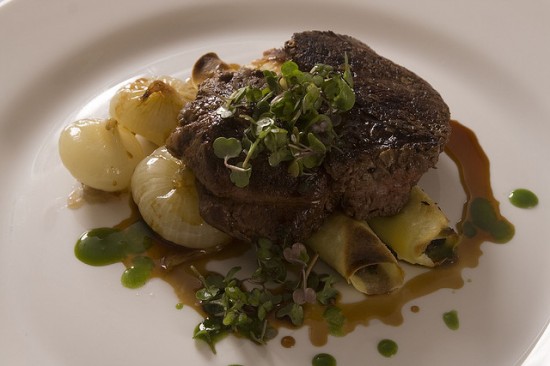 Somehow everything that makes a perfect dinner just jumped into this post and before I knew it, a very special dinner menu was born. It's definitely not something I'd cook for a weeknight, but if I had a quiet weekend this might be just the menu. It's a definite for a special occasion, though — I'm thinking a romantic dinner for two … but then again, aren't most busy moms?
This blueberry sauce for beef just sounds so perfect … but I've become a lazy cook lately and it might not get made until a special occasion. Since the anniversary already passed, along with the birthdays, I might just have to wait until New Year's Eve or Valentine's Day to enjoy this one … though it really isn't hard to make.
Here's the side dish to my beef with blueberry sauce, since I'm feeling too lazy to make this spiced tomato gratin, but oh, does it get my salivary glands into a tizzy….
And for dessert — chocolate nut cake. I love that Bea over at La Tartine Gourmande mostly cooks gluten-free. Her desserts are divine and I can always find something that fits our way of eating … with perhaps some sugar substitutes.
What do you think? Serve it up with a gourmet mesclun salad and it's the perfect dinner.
Photo Credit: Food and Spirits Magazine / Flickr