Devious Maids' new African-American family adds comedy and intrigue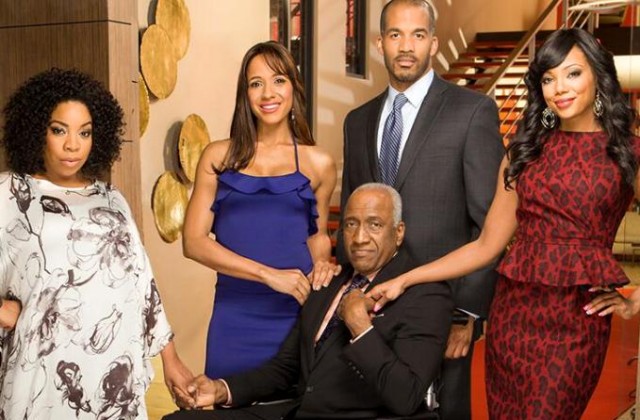 Lifetime's 'Devious Maids' is one of the network's most talked about shows! Now they've added a new African-American family that's turning heads! In this edition of 'Clacking in Color,' the hip and happening column spotlighting minorities on TV, writer Jaylen Christie explains why you should be watching!
Scintillating is the word when it comes to Lifetime's Devious Maids. Now in its sophomore season, the entertaining soapy sudser about resilient and resourceful Latina maids working for the rich and snobbish A-list of Beverly Hills is arguably one of the network's most talked about shows – and for that matter, perhaps one of its most ethnically diverse. Don't believe me? Just tune in for yourself. Go ahead. Try it!
I'm an equal opportunity television junkie.
Ask anyone who knows me and they'll tell you that I am a firm advocate for more, um, color on the airwaves. What can I say? I'm an equal opportunity television junkie. With that being said, it shouldn't come as a surprise that Devious Maids is one of my favorite programs. Not only is the writing spot on and the mystery intriguing, but the talented cast boasts some of the most ethnically diverse faces on television today. This season introduced a brand new family of characters to this mix – the Millers, a super wealthy yet super dysfunctional African-American household with a crap ton of issues.
Needless to say, I was definitely intrigued.
If you haven't been watching this season of Devious Maids, then you need to jump on board. The Millers have proven their staying power and have enough interest to keep viewers glued to the screen. For those who watch religiously, you know what I'm talking about. For those who haven't been tuning in, shame on you. Let me bring you up to speed…
The head of this new household is Kenneth Miller, a wealthy gentleman who has suffered a stroke and is now bound to a wheelchair. His wife is Didi. She's half his age … and did I mention she's a former stripper? Priceless! Didi clashes regularly with Lucinda, Kenneth's daughter whose own daughter was taken away from her when Kenneth forced her to give her up for adoption. Then there's Reggie, Kenneth's nephew who also happens to be a lawyer and a certified gold digger. It was recently revealed that Reggie is playing all of them by manipulating poor Kenneth into unwillingly handing over to him the family fortune, kicking Lucinda out of the house and instigating a divorce between Kenneth and Didi. Fortunately, as the last episode revealed, their resident maid – the lovable and religious Rosie Falta, played wonderfully by the capable Dania Ramirez, is on to him.
Sounds interesting, right? While there may be some people of color out there who will claim that this is stereotypical, I would encourage those same individuals to examine the show's other principle storylines with its Caucasian characters and their own dysfunctional families. For starters, there's Evelyn Powell (my favorite character) who is cheating on her husband with his bodyguard. Genevieve Delatour (the hilarious Susan Lucci) recently tried to set her maid Zoila up with a male prostitute. Spence Westmore (Grant Show) has a borderline psychotic nephew who just tried to poison him with a cleaning solution. Oh, and Opal Sinclaire (Joanna P. Adler) is a murderer.
See? Drama for everyone!
The Millers are compelling in that the writers have been able to cook up something for each of them to do in every episode this season. That's a real testament to the creative team behind this program … who also happened to be the minds behind another hit soap that ran on ABC for eight straight seasons. Anyone ever heard of Desperate Housewives?
Back in its heyday, that program was a powerhouse for ABC and introduced its own African-American family during its uneven second season. Despite being headed by four time Emmy Award winner Alfre Woodard, that storyline was universally panned by critics. I think it's safe to say that the creative team behind Devious Maids, including Desperate Housewives creator Marc Cherry and former Desperate Housewife Eva Longoria, have learned from that disaster.
My only complaint is that the Millers have been somewhat isolated from the other households.
So, will the Millers be back next season? I certainly hope so. The cast is certainly talented enough. Tiffany Hines has been a real joy to watch as Didi, and Kimberly Hebert Gregory has successfully managed to make viewers laugh and shed a few tears as Lucinda. Both actresses have good chemistry with one another and with Ramirez who has shared scenes with them both. My only complaint is that the Millers have been somewhat isolated from the other households. I'd love to see them interact with Evelyn or Genevieve. Perchance that can be rectified next season. A fellow can dream, right?
According to Variety, the show drew three million viewers for the finale of its first season last year which was a 50 percent increase from its debut episode. It seems to be the perfect summer show. If Devious Maids get picked up for season three, maybe we'll be seeing more of the Millers. Who knows? Maybe we'll get Japanese characters or perhaps a family from India? I'm all for it!
After all, everyone can be a little devious, right?
Keep up with writer Jaylen Christie by following him on Twitter @thesuperflynerd!
Photo Credit: Lifetime