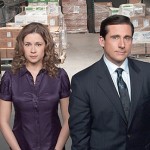 Dear Greg Daniels,
No! And I mean every syllable.
What have you done? This time last year, you had us all salivating over rumors of a spin-off of The Office. My wife, a huge Toby Flenderson fan, only made it through Toby's retirement party by imagining him helming his own series (not that it would have been a good one. Women!) Your audience was built in, and a successful second show could have grown audiences for both.
You've even crafted a brilliant alternate universe this season: the Michael Scott Paper Company. With a staff, storylines, and even its own opening credits (nice!), the new show would have been perfect, providing fans with a full hour of The Office-esque comedy, cast members floating back and forth with ease. As similar as it would have been to the original, Michael leaving one company to start another would have allowed each half-hour to explore new territory. Not only that, but a flop with the Michael Scott Paper Company would have left the door open for the characters to return to the original show. Brilliant.
Instead, we have a bit of a mess. Let's start with The Office. Loving the show, don't get me wrong. But with so much going on, I feel as if everyone, cast and viewers alike, are being cheated. There's minimal time for the supporting characters anymore, so all we get are cheap one-liners from the likes of Phyllis, Stanley, Kevin, and Angela, to name a few. Jim is hitting a brick wall with new boss Charles Miner, so there goes his screen time with both Pam and Dwight. All that's left is some weird new friendship between Andy and Dwight, which, while funny, is no match for their Cornell-interview-feuding days. And what about the warehouse? There's just not enough time.
And now for the worst part: you gave us Parks and Recreation! I mean, yuck! My wife and I were one and done, until a review by Entertainment Weekly convinced us not to judge it too fast. Instead, we wasted a second half-hour on it before canning the show. It's just not funny. The brightest spot is Aziz Ansari, but he can't carry a show by himself yet. Amy Poehler has Tina Fey syndrome: a brilliant comedian who should never act. Or do impressions, but I won't get started on that, since Saturday Night Live is not your fault.
But come on, man! You're wasting a golden opportunity to give us thirty more minutes in Scranton, PA. NBC handed you the keys to the executive washroom, and you decided to go down the street to the local gas station (I don't know). You could have been a superstar, like Jerry Bruckheimer, but instead you risk being a flash in the pan. Next thing you know, you'll be producing and starring in some weird show for HBO about your crazy life…. Okay, let's not go there.
Look, you've got talent, and you've got brains. You spun a brilliant show out of what could have been just some crappy remake, and NBC is right now looking at you as one of their few golden geese. That's the problem: they'll buy whatever you're selling. Couldn't you make it something good?
Yours truly,
The fans
P.S. I almost forgot: With all sincerity, thank you for The Office. Much obliged.
Photo Credit: NBC