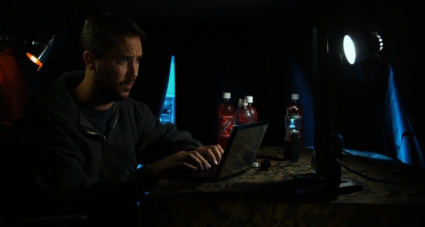 You know we at CliqueClack are big fans of TNT's Leverage. Did you know we really like Wil Wheaton, too? So when Wil landed a guest spot on this week's Leverage ("The Two Live Crew Job," airing Wednesday night at 9:00) we knew we'd have to talk to him about it, and I was the lucky interviewer.
I saw the episode already, and it was amazing — so amazing that I'm crossing my fingers for a reprisal of Wil's role in a future episode (which Wil would completely welcome).
You've read my interview with producer Dean Devlin (right?), where I reported an exclusive on the Wil Wheaton hockey scandal of the early '90s. When I talked to Devlin then, he hadn't had any contact with Wil since the hockey incident, and now here they are working together after all these years. Coincidence? I think not. I couldn't help but think I got the ball rolling on this partnership. What did Wil have to say about this?
And I quote: "I'm thrilled to give you credit for this." See, all me! Actually, Wil also said that it was perhaps a "more two-fronted assault," since he's been friends with John Rogers, one of Leverage's creators, for years. OK, so part me, but I'm still glad I may have put the bug in Devlin's ear, because it was so much fun to watch Wil in this role.
I mentioned already that I loved this episode, and so did Wil. "It exceeded my already high expectations," and he's been getting 100% positive feedback from everyone who's viewed the screener.
Wil had my favorite quote of the episode, a jab at Hardison (in return for a jab Hardison took first) which made me laugh out loud. The entire scene where Hardison meets Wil's character, Chaos (Hardison's counterpart and nemesis), was so cleverly shot, directed, and edited, and Wil was thrilled that a lot of the choices he deliberately made to convey what his character was all about made it to the screen.
Now for a little dish on the regular cast members of Leverage, and their likenesses to their characters: Wil says Christian Kane is probably the most like Eliot, since he does his own stunts, and "has the same quiet intensity and undercurrent of gentleness that Eliot has."
"Aldis (Hodge) is a super-nerd … he actually builds watches, crafts them with gears and springs, and the whole nine yards."
"Beth (Riesgraf) is nothing like Parker. Parker's a little weird, and doesn't like people … she seems like she's missing a couple of dice in the dice bag (methinks Wil plays a bit of Dungeons and Dragons), and Beth is funny, and sweet, and charming, and friendly, and likable, and really, really fun to be around."
Wil likens the family feeling on the set of Leverage to his time on Star Trek: The Next Generation. "When I worked on Criminal Minds, it was like visiting someone's family for a little while. Working on Leverage was like visiting somebody's family on vacation at the best summer camp in the world."
I asked Wil for an exclusive tidbit, something he hadn't mentioned to anyone else in any interviews. What did I get? A hilarious story that only his wife had been privy to before our chat — although she got photos…. A fight scene that Christian Kane shot was in a Portland art museum, and they were surrounded by Grecian statues in the buff. "They had to paint fig leaves in the same color as the statue, and put them over the statue's 'junk' so that nobody could see it, and that was just hilarious to me." Wil went on to say how they "so carefully and gingerly" placed the fig leaves over the 'cash and prizes' on the statues."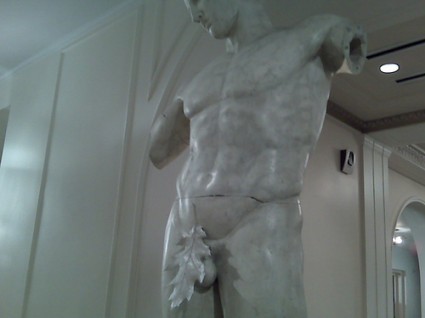 CliqueClack's Bill White, cartoonist extraordinaire, had to know what it was like to have an action figure made in your own likeness. Wil said it "eventually was awesome," but his first Wesley Crusher action figure wasn't quite what he was expecting.
He had made a special trip down to the marketing offices to look at the concept drawings and to provide pictures of himself, and the little 6-inch Wesley ended up "with bright green eyes and almost elfin features." To add to the disappointment, the scale was completely wrong to "finally fulfill that Princess Leia fan fiction I wrote when I was 12." The 10-inch action figure, though, looks just like him, which "is a little weird, but mostly awesome."
Wil, always a friend of CliqueClack, issued this statement at the beginning of the interview: "… Full disclosure for the viewing audience at home — Debbie's husband Keith is the reason my next Star Trek book is coming out." I'm sure Keith is blushing right now. A little explanation: Keith hired Wil to write a Star Trek column for TV Squad, and there would be no book without that column. Nice call, Keith.
It was a pleasure talking to Wil, and for crying out loud, don't miss his episode of Leverage this week. I implore you: program your DVRs now.
If you're dying to know what Wil ate while working on the set of Leverage, visit my post at CliqueClack Food.
Photo Credit: TNT, Wil Wheaton