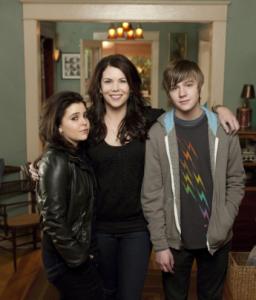 No matter how annoying it may be to actress Lauren Graham for people to continually compare her new single mom character Sarah Braverman from Parenthood to her single mom character Lorelai Gilmore from the Gilmore Girls, I'm sorry, but that's what people are going to do — at least that's what I'm doing when I watch Parenthood. I'm just hopeful that, after we're a few episodes into the new NBC family drama, that Graham will have made me forget about Lorelai and really disappear into her new character, the same way Edie Falco made me forget Carmela Soprano when she transformed herself on Showtime's Nurse Jackie.
After watching Graham in Parenthood's pilot episode and comparing her new character to Lorelai — coincidentally, the first season of the Gilmore Girls is currently airing in repeats on ABC Family — I decided that, while there are surficial commonalities between them, there are a whole lot more differences.
Marital status:
Lorelai, who was in her early 30s when the show began, got pregnant at age 16 and turned down several marriage proposals during the seven seasons of the Gilmore Girls. In the last (disappointing) season, she agree to marry her baby daddy, Christopher, as their daughter was in her senior year of college, only to have the marriage collapse in mere months.
By comparison, Sarah, 38, was married to a rocker dude, had two kids with him and then divorced him after his drug addiction became a problem.
Economic status:
Lorelai was raised in blue-blooded East Coast affluence but ran away from home when she was a teenager, taking her baby with her. She got a job as a maid at a Connecticut inn whose owner let her live in a glorified shed with her baby. Eventually, she made her way up to become the inn's manager and eventually saved enough money to start her own inn, though her parents paid for her daughter to attend private school and then Yale.
Sarah was raised on the other coast, in Berkeley, California in a middle/upper-middle class home. Now that she's divorced, jobless and her ex-husband's not making much money, she's been forced to move back home with her parents, bringing her two teenaged children with her. (Lorelai would've rather eaten glass than live with Emily and Richard in Hartford.)
Kids:
Lorelai had one child, Rory, who, when the Gilmore Girls began, was 16 years old. Rory dressed relatively demurely, has an All-American Ken doll of a first boyfriend, was insanely smart, voraciously read all the time and rarely gave her mother trouble.
Sarah has two children: A sensitive, baby-faced 14-year-old named Drew, and a cigarette-smoking, anti-establishment, rebellious 16-year-old daughter named Amber whose in-your-face attitude reminds me of Lorelai, the teenager.
Extended family:
Lorelai was an only child. Sarah has three siblings who all live nearby: A younger successful lawyer of a sister, an older businessman brother and a younger, aimless brother.
Verbal dexterity:
While Lorelai was famous for her pop culture references and rapid-fire witty repartee, Sarah's no slouch when it comes to banter, though her wit is unleashed at a slower pace than chatterbox Lorelai's was.
Fashion sense:
It seems as though both Lorelai and Sarah would be content to share a closet.
Can you watch an episode of Parenthood without thinking of the Gilmore Girls or has Graham done a good job of making you forget she played Lorelai?
Photo Credit: Mitchell Haaseth/NBC