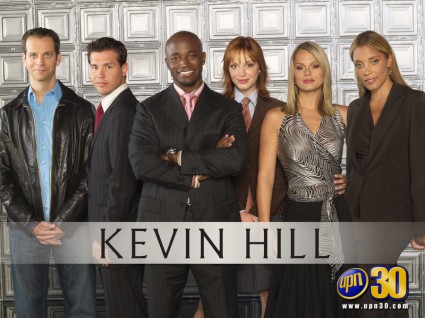 It may or may not surprise you to discover that Wednesday was one hell of a night for TV, and there are some great choices to be had here. It's hard to pass on a lot of these shows, but all great things require monumental effort, so here I go.
For those of you playing along at home, see how I got here by taking a look at my NBC, FOX, CBS, ABC, and The CW dream Wednesday nights, and choose your own.
8:00-8:30 Certainly we can dispense with the formalities when it comes to Privileged; a gift for the wife, it's the first to go in the face of some stiff competition in both half-hour slots. Like what, you ask? Like 30 Rock, Back to You, The Wonder Years, and Charles in Charge, for starters. Oh man.
I've been watching some early episodes of Charles in Charge, and the show does still hold up, even if it is a lot dated. Willie Aames has done much better work, but the Pembroke kids were great, and Walter Powell (James T. Callahan) and Charles (Scott Baio) had a really nice relationship. So maybe in another universe, but against the competition facing it here?
The Wonder Years, for some reason, remains one of my fondest memories from 1980s television. I love Fred Savage (not as much as his brother Ben, and only from back then, but still), Dan Lauria (the father) is tremendously talented, and the entire series was a great mix of fun and life-lessons. I can still remember snippets of those episodes from the summer when Kevin's working at camp, and Winnie (Danica McKellar) kisses another guy. What a great show.
Which is something I can only occasionally say about 30 Rock. I was finally really into it from some point early last season, but I think giving Liz (Tina Fey) her own stories was a huge mistake; that's tipped the balance towards more annoyance than enjoyment for me since the middle of this last season.
I came into Back to You feeling as if I had to like it. I love Kelsey Grammer, and I love Patricia Heaton, so wasn't I obligated to enjoy their joint project? Once I got over that feeling, the show soared for me. And now that I look back at those first few episodes I couldn't quite get into at the time, I love it all the more. The entire cast was fantastic, and they made the show amazing. Too bad more people weren't watching, but I'm going with Back to You.
8:30-9:00 The game gets somewhat easier here. Will it be The John Larroquette Show, The Middle, or WKRP in Cincinnati?
We can dispense with The John Larroquette Show; I think that was more out of a sense of enjoyment from Larroquette than any sentimentality over the show.
I've taken a look at a few episodes of WKRP in Cincinnati recently. It's extremely dated and cheesy, but it's good fun. But do its quirky characters stand up to the quirkiest of them all, Brick Heck?
Not a chance. The Middle wins with little or no debate. And that show hasn't even come near hitting its stride yet … oh the places it'll go.
9:00-10:00 Talk about your mind games. Shall it be The West Wing, Justice, Doogie Howser, M.D. and Spin City, Criminal Minds, or Kevin Hill?
In truth it's really a one-on-one battle between The West Wing and Kevin Hill. Justice was good for a FOX show, and gets extra points for being a legal dramedy, which I love, but it really doesn't stand a chance. Criminal Minds is solid, and this season aside I love the mix of characters and crazies, but there are greater forces at play in this slot. Doogie Howser, M.D. was a great show back in the day, but watching it now brings a lot more corny than cute. And Spin City didn't hold up when Michael J. Fox wasn't in the room, and we all know it.
I loved Kevin Hill. I think it was one of the finest legal dramedy series around, and casting Taye Diggs was a stroke of genius. Plus the side story with Sarah? It was perfect. 99 times out of 100 the show would win, and I would be thrilled to see even one more episode of the show, let alone watch it in perpetuity.
But a week without The West Wing? That's not even a computable option. It's not my favorite show ever, or quite possibly my favorite drama ever (The Wire? The Sopranos? How does one choose?) but The West Wing was one of the greatest shows ever on television, and I watch it again and again and again with the same amount of enthusiasm. It wins a good fight, but a clear-cut one nonetheless.
10:00-11:00 Could two shows be any more different than Quantum Leap and The Unusuals? I'm not sure, but I did thoroughly enjoy them both. Interestingly, I no longer predominantly see Scott Bakula as Sam on the Leap; he has become Terry on Men of a Certain Age so convincingly, and I absolutely love that show.
Anyway, The Unusuals was phenomenal. There's kind of nothing else to say about it…. I like Castle, but The Unusuals was far and away the best new show ABC broadcast last year. I have no idea why a mass audience didn't see that.
And that's all there is to it. Make sure to join me next week for the 31st and final installment of this series, the ultimate in Thursday night programming. In the meantime, if it were up to me, I'd be watching the following lineup in perpetuity on Wednesday nights: Back to You, The Middle, The West Wing, and The Unusuals.
How about you? What does your dream Wednesday night lineup look like?
Photo Credit: The CW