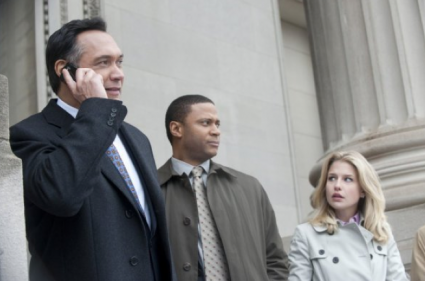 Some people are really going to like Outlaw, but others are going to just plain hate it. I doubt in the beginning there will be much middle ground. Having watched the pilot, I'm in this odd state of cautious curiosity. The criticisms I've read out there are valid, that the premise is just a bit unrealistic. After just one episode, though, I wasn't much bothered. However, after 21 more, I'm not sure that I wouldn't feel the same way. Just by the way the plot worked in the pilot , the dynamic of the show still hasn't been settled. As I've said, though, there is quite a bit worth liking in the first hour of Outlaw, so that's what I'm going to hold on to going forward.
You've heard the premise … Supreme Court Justice steps down from the high court (with the best job security on the planet) to fight against a system he no longer has faith in. As far as lawyer shows go, it isn't even the most outlandish premise in the last five years, let alone ever (I think the brilliant Eli Stone will hold that honor for a while, but if you don't like 'ole Eli we can always point to Boston Legal if that better suits your fandom). Ironically, what I find much harder to believe is that the move is accompanied by a complete shift in his political and social ideology, from a centrist jurist to a very liberal criminal defender.
His politics and personal decisions notwithstanding, Cyrus Garza is a character like no other, and Jimmy Smits (LA Law, The West Wing) wears the role like an old, comfortable suit. When we first meet the then-Associate Justice, he's being kicked out of a casino for successfully counting cards on a six deck shoe. His gambling does rise to the "problem" level, and includes debts that his political enemies think they're going to be able to use to keep him voting their way on the court. But once he's made his decision to change job titles, Garza doesn't let the threats of politicians or lone sharks intimidate him. His stubbornness, though, doesn't mean that someone isn't going to knock on his door very soon "asking" for a large sum of money.
Garza manages to bring a couple of his clerks from the Supreme Court with him to start his legal team. Jesse Bradford's (Flags of our Fathers, The West Wing) Eddie Franks spends most of the pilot looking for another, more sane, boss to work for, before finally coming around to Garza's new direction. On the other hand, Ellen Woglom's (Crash, Californication) Mereta Stockman would follow him anywhere, including to bed (though it seems that Garza has few problems in that area). Rounding out the team are Carly Pope's (Popular, 24) Lucinda Pearl as a street smart private investigator, and David Ramsey's (Dexter, The West Wing) Al Druzinsky as the senior member of the legal team, and the lawyer already fighting on what becomes Garza's first case. If you know me, considering the number of times I've credited The West Wing at this point, you had to know I was going to like the pilot.
Will Outlaw succeed? I'm not entirely sure. A Friday 10:00pm time slot is one I can't figure out. It is against 20/20 and Blue Bloods (a pilot I doubt I'll get around to reviewing … it put me to sleep twice), so it has got competition for the demographic of the only people watching television on a Friday night. I think it is a more natural fit for Sunday evenings, but fortunately for you, me, and the folks at NBC, I don't make their programming decisions. That being said, considering the obstacles that it has in its way, Outlaw is going to need all the help it can get. I am actually rooting for the show; I think it is one that is going to struggle to find its voice early, but when it does it should be a very solid hour of programming.
Photo Credit: NBC