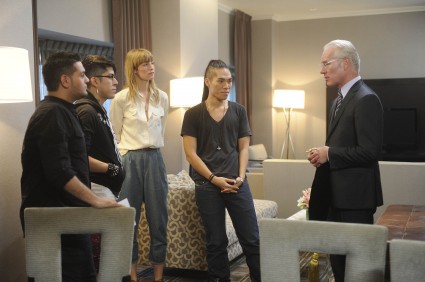 Last week, I posted a poll asking who you wanted to see make it to the Fashion Week runway show. The results were very top heavy at 93% for Mondo and Andy, 70% for Michael, and only 17% for Gretchen. Most of you should be fairly happy that Mondo and Andy made it. I thought the bottom two would be Andy and Gretchen and based on Heidi's comments about Gretchen's designs, Andy would be out. But, as has become the pattern this season, Gretchen puts out moderately tolerable or hideous designs, but is rewarded with a "you are in." So, it came down to Michael and Andy. I knew Andy was in when Heidi smiled at him in a knowing way before saying his 11th look was the judges' favorite.
Regarding the designs, I loved Mondo's 3-look collection the best and  felt the other designers put rather "meh" choices down the runway. In the end, I would have kept Michael over Gretchen. But, the producers and judges have kept her around this long, so why let her go now? I was hit hard by Michael's reaction to being out. It was such an honest, unrestrained reaction. The utter disappointment and feelings of failure he displayed in that moment felt so real.
Michael's breakdown was heartbreaking and I was hopeful that, as in past seasons, the final four did all have collections go down the runway. I have stayed spoiler-free throughout the season, but decided to go and look online to see which designers had runway shows during Fashion Week. The answer shocked me. Since the final three are already decided, I think it is safe to say which designers actually presented in addition to the finalists: Casanova, Ivy, Valerie, Christopher, April, Michael D, and Michael C was also there. So, surprisingly, the final 10 designers all got to show at Fashion Week. While they weren't in the competition for the grand prize, just getting the opportunity to showcase their designs is huge.
Next week, we get a two-hour finale! For tonight's poll, did the judges make the right decision tonight?
Photo Credit: Lifetime