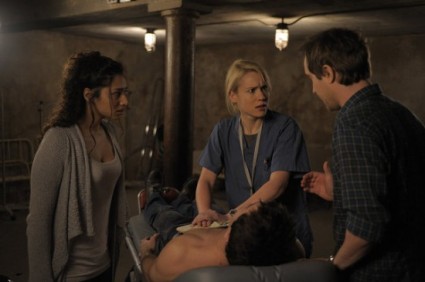 I'm going to get to the most frustrating part of the episode first … I'm not entirely sure if Nora lost the baby or not. My first response was, "Oh God, she lost the baby," but when I checked the Being Human website — they post summaries of each episode — it said nothing about her losing the baby. And neither Josh nor Nora actually mentioned the baby when they sat down after she discovered his terrible secret, so it could go either way.
Of course, the big reveal is something I kind of saw coming: Nora got scratched. Nora might be a werewolf. But does anyone else think this might not be the worst thing in the world? Josh has been afraid of hurting her during his transformation, but if she's a werewolf too, he wouldn't have to worry about her being defenseless. And he wouldn't be so alone. The fact that she wasn't angry at him for scratching her is a good sign. I wonder how much Nora comforting Josh was actually her fishing for information.
Aidan finishing off Bishop was really a necessity considering how things had escalated in the last few episodes. Discovering what his former ally did to Celine was just added incentive for Aidan. Speaking of Celine, her departure from the show was certainly an understandable one — isn't it better to go out helping a friend than slowly dying over the next couple months? — but if my guess about Celine's daughter coming into the picture for season two is correct, it's going to make things a little awkward for Aidan. "Hi, I'm your mother's former lover … and I technically murdered her for her blood."
In the last three episodes, a good chunk of the established side characters have been killed, including two love interests and the two big antagonists of season one. If there's one thing that frustrates me about this series, it's how quickly they get rid of characters. The quickly-mentioned lady vampire who will surely be season two's antagonist is already in the works, but will she stand up to the complexity that was Mark Pellegrino's performance?
My absolute favorite part of the whole episode were the Josh/Aidan flashbacks. I've been wondering how Aidan and Josh figured out each other's secret. In an earlier review, I mentioned wanting to see how the two friends met, and we got it! Does this mean the Being Human writers read CliqueClack? Hey, it could happen! I audibly gasped at the last moment of the episode, when you see Josh and Aidan walking by the house and seeing Sally's body taken from the house. It's also ridiculous how much I enjoyed hearing Oasis' "Don't Look Back in Anger" in this scene. I gasped again when I realized the refrain goes, "And so Sally can wait/she knows it's too late as we're walking on by/her soul slides away/ but 'Don't look back in anger,' I heard you say." How absolutely perfect is that?
So, the good news is the show is coming back. However, Syfy's website is saying it won't be back until 2012, which means at least seven months until they resolve the cliffhangers.
So, that was the first season of SyFy's Being Human. How did it do? Well, it definitely picked up speed towards the end. I'm surprised how much I ended up liking certain characters like Nora and Aidan. I still think Sam Witwer blew it out of the park in this role. In the second half of the season, I finally started to see that friendship between the roommates I was looking for. Honestly, for a series that was labeled a BBC clone before it even got on TV, Being Human has definitely been a treat to review. Here's to season two.
Photo Credit: SyFy