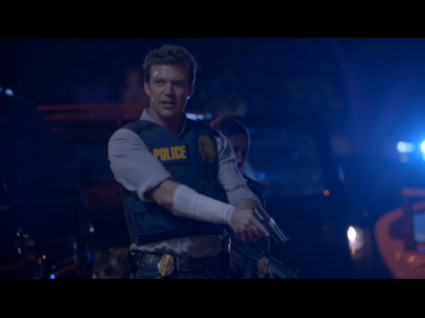 "Makes Tony Soprano look like Ghandhi." – Carlos, about the Cuban mobster they were investigating
I honestly wasn't sure I was even going to write about the season two premiere of The Glades. I greatly enjoyed season one, which was in large part due to Matt Passmore, but also because I liked the way the writers handled the relationship between Jim and Callie and also Callie's son, Jeff. But beyond the slick and glossy new theme during the opening credits, I didn't feel it brought a whole lot of anything new to the table. Then I realized that this was just as things should be.
Sometimes, I really get excited when a series will up the game either during the season finale, or add a certain something to the season premiere that sets the stage for the new season being just a little more exciting, a little different. I suppose you could argue that The Glades did this when they got Jim and Callie together at the end of last season, and brought Ray home at pretty much the same time. But what didn't happen is anything like shock value, anything contrived. The transition from season one to season two was seamless; the writers didn't drag out Jim and Callie getting together (yes, Hart Hanson, I'm looking at you, and Andrew Marlowe, I may be looking at you come September). They simply told the story in an organic way and followed the story where it led them. This kind of writing is to be commended in an era where teasing the viewers is valued more than telling a quality story.
Thankfully, The Glades is also still full of the goodness that made me enjoy it so much last season. Jim still knows no boundaries and is fairly uncouth. He's cooler than Shaft when little things, like car bombs, interrupt his day. And he's completely adorable, doing numerology to see if he and Callie are meant to be together. Same old Jim. And Callie still hits him a lot, so what more could we ask for?
Something tells me we're in for an interesting three months as Ray attempts to win his family back. Not sure he stands a chance against Jim, but it will be fun watching.
Photo Credit: A&E