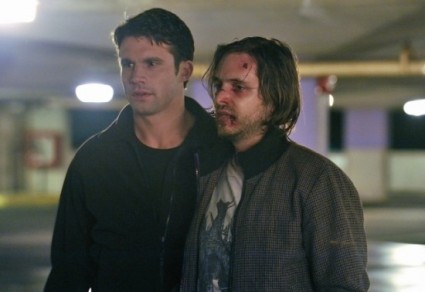 A few years back, Aaron Stanford was on this fantastic little show called Traveler. He played Will Traveler, a grad student who framed his roomies Jay Burchell (a pre-White Collar Matt Bomer) and Tyler Fog (Logan Marshall-Green) for a museum bombing, because in actuality Will (not his real name) was an agent of a mysterious group called the Fourth Branch. He was part of a complex conspiracy, and he teamed up with his buddies to bring the whole thing down. It was glorious, up until ABC cancelled it following the eighth episode.
When I heard Stanford was succeeding Matthew Ferguson in the Birkoff/Birkhoff role, I thought, "That's an interesting choice. He was great in Traveler. C'mon, he played Pyro in the X-Men movies. I bet he'll have a totally different take on the character. And I wonder if he'll end up having a twin brother…"
So far, Seymour Birkhoff doesn't have a twin brother. And so far, I'd always been waiting for him to bust out. Yes, he was great as comic relief, and we saw him save everyone else's bacon with his tech wizardry over and over again. But c'mon, couldn't he do more than quip and play with the cool toys? This was the same actor I totally believed when he was playing a pissed off rogue domestic spy! Not that I didn't love Birkhoff (because I do), but I was hoping he'd get to show some claws someday.
That "someday" was this week's episode, "Fair Trade." Captured by Division, interrogated by Amanda, we see Birkhoff's wisecracking facade fall away, bloodied and battered, to reveal a guy with some bite. Told to give up Nikita's location, his response is "You might as well ask me where Carmen Sandiego is, bitch." He's got attitude. He's got spine.
Okay, so he nearly gave Nikita up once Amanda started shoving a giant needle up his nose. I don't fault him for that. I can't considering just looking at the thing gave me the creeps.
But I am so glad to see another side of Birkhoff, one that can take a few punches and dish something back, too. To have him just be the guy who makes snappy remarks while Nikita and Michael get the glory would be a waste. No, give me the Birkhoff that can kick a little ass, please and thank you.
Speaking of character development, I also have to half-retract my statements about Sean (Dillon Casey) from last week. While last week did plant seeds of doubt in my mind, "Fair Trade" helped re-establish Sean as somebody whose mind isn't quite made up. That last look on his face after speaking to Alex certainly read like hesitation to me. I still am a bit wary of him, but watching him this time around did convince me that maybe he'll avoid being written as a one-note manipulator.
He'd be better off leaving the manipulations to Amanda, because Melinda Clarke came very, very close this week to giving me nightmares like Alberta Watson used to a decade ago. I must say that while Watson and Eugene Robert Glazer set a very high bar in terms of TV villainy, Clarke and Xander Berkeley are finding their way up there (now if only we could get Percy out of that box, she repeats for the umpteenth time).
Nikita still has some work to do before it irons out an uneven second season. But right now, this week, I'm smiling, because Aaron Stanford finally got to bust out. Even if it was while tied down to a chair.
(And for those of you who missed Traveler? Skip on over here and read series creator David DiGilio's final blog on the show. It's chock-full of spoilers, but just the concepts will show you how fantastic of a series you didn't get to see. You'll thank me later.)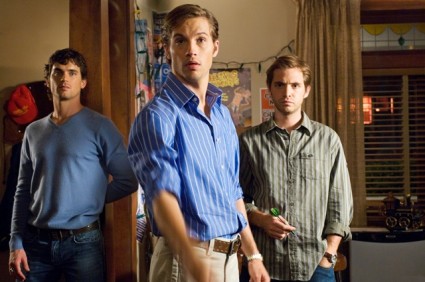 Photo Credit: CW