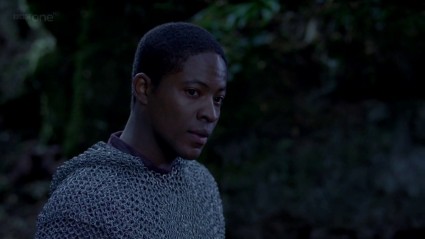 Guys, I have a confession to make, which is probably the worst confession a television blogger/reviewer can ever make: I don't have an opinion on this week's episode of Merlin.
Well, maybe that's inaccurate, because I have an opinion on everything. What I mean isn't so much that I don't have an opinion so much as my opinion is in the place that everyone whose job it is to have an opinion fears: the terrible meeting point between "mixed reaction" and "totally lacking in the confidence to feel what I actually feel."
On a normal week, I'd just give this episode a mixed review, generally leaning towards favorable. Pros: endearing knights, vague attempts at logical plot coherency, actual callbacks to previous episodes, backstory, some of the absolute finest acting work ever to come from Bradley James, ever, tons of eyecandy (hello, Sir Elyan!). Cons: blah storyline, the tone of Arthur and Merlin's interactions was far more teasing and mean-spirited than it's been all season, which seemed oddly regressive (though I'd buy the argument that that's just what boys do when they have a lot of feelings and don't know how to communicate them), and can we have some other way of being creeped out besides a dark-haired, large-eyed boy that only one person can see walking around dripping water? And I'm just plain old not sure how I feel about the fact that both Elyan and Arthur were presumed to be in cranky moods because of Gwen, but then it turned out that, in fact, what was upsetting both of them was wholly tied up in the Druid camp. On one hand, I liked Arthur's actual reasoning and backstory far, far more than I've probably liked any bit of backstory ever, but on the other hand, uh, isn't Gwen supposed to be Elyan's sister? Wasn't Arthur supposed to be super in love with her? So is it just me or is the fact that apparently both Elyan and Arthur were too consumed with their own personal manpain kind of demeaning to what little storyline she has been given?
The thing is, though, that besides Arthur's tearful confession at the Druid camp, I had no emotional investment in this episode. I sort of had feelings and opinions, but they weren't stronger than the opinions I have on, say, what flavors of ice cream are better than others. Which is weird, because it's Merlin, and I don't think there's ever been an episode of Merlin that I've ever had this little feeling about. The only possible reason I can come up with for caring so little is that after last week's epic failure of an episode, I'm somewhere between burnt out of emotions and afraid to care about the show ever again.
I'm sure by next week I'll be back to having more feelings and opinions than I possibly know what to do with, but maybe I needed a vacation this week from that. Maybe we all just needed an episode like this, an emotional palate cleanser, something we can watch, go "that's nice," and move on from. And there's nothing wrong with that. There just isn't anything really right about that either.
Photo Credit: BBC