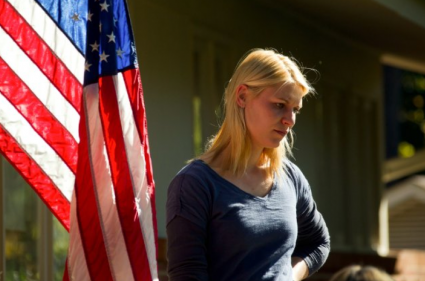 I've been told that hate is a pretty strong word, but in this case, I feel pretty comfortable using it. Homeland was easily one of my favorite new shows this year; in fact, if I hadn't fallen so head over heels for the extended world of Westeros in HBO's Game of Thrones, Homeland might actually be at the top of that list.
It was a superbly plotted first season, where the writing and overall production value was exceeded only by the stellar performances by the cast. There are not enough superlatives in the dictionary to describe Claire Danes' performance as the incredibly talented, yet incredibly screwed up CIA analyst Carrie Mathison. I was also especially drawn into Mandy Patinkin's turn as her mentor Saul Berenson. I was less impressed with Damian Lewis' Nick Brody, but more on that in a minute.
Despite the previous eleven episodes, what went wrong with "Marine One?" Well, on one hand, absolutely nothing. If you expected — reasonably based on the title of this post — for me to tell you how horrible I thought it was, I hate to break it to you … it was a good episode of television. But as a fan of the first part of the season, I decidedly did not like how the season ended. I'm not surprised that there seems to be a significant number of people online that share the opinion (note: significant does not necessarily imply anything approaching a majority), but I am a little taken back by the response of television critics to that disappointment. It's like they can't even imagine a reason why we might think that way. Well, here are several of the reasons we do:
The Killing factor
I could make this point without referencing AMC's much-maligned freshman's drama, but since much of the discussion online resolves around it, it is hard to stay away from. Despite that, I'll make my point, and if you see the connection, great. If not, well, in the words of the immortal Rhett Butler, "I believe in Rhett Butler, he's the only cause I know" – oh, and that other famous quote by him.
The first eleven episodes of the series ratcheted up the tension – sometimes slowly, other times not – driving to the flashpoint of the culmination of Abu Nazir's terror plot against the United States. For many, the question may have been whether or not Brody was a traitor. To me, the overriding question created by the series was whether or not Carrie Mathison would be able to stop the attack – which she obviously was (that she was the direct impetus for stopping the attack and that she will never be aware of that is a tragedy in and of itself). But if the show is about good vs. evil, or more specifically the immense amount of grey between those two constructs, then I want to see that paid off when the story comes to a close. Fact: Carrie Mathison saved the day, and ends up in the hospital. Fact: Nicholas Brody was complicit in an attack on the Vice President that left three people dead, and nearly killed many more with his bomb in the bunker. His punishment? Family intact (for now), Congressional campaign ready to spin up and all kinds of cozy with the next President of the United States.
I get that other fans may have not expected the closure I did – and I'm very happy that those fans got what they wanted. But Homeland built up my expectations, and then failed to meet them.
The Preview Problem
In the grand scheme of things, this is a relatively small complaint, but, as the song goes, it's my party, and I'll cry about it if I want to. The teaser for the finale, which ran immediately following episode 11, went a long way towards ruining the suspense of "Marine One" for me. Homeland spent much of the eleventh episode building up the idea that Abu Nazir's plot is much more complex than we think. Team CIA had believed the attack would be a single sniper, but Super-Carrie posited that the plot ran much deeper than everyone else believed. We knew she was right, because we knew at the very least that Brody was in the plot. Great! Roll credits, and the preview pretty much spells out exactly what the plan was. Then, when watching Brody flummox with the detonator switch, I remembered that the previews also showed bits and pieces of the final confrontation between Walker and Brody. It would be pretty hard for Brody to confront his old teammate if he were vaporized in the basement of the State Department.
I recognize that this is a problem that many shows face. But as I thought about the different things that ruined the finale for me, knowing what little bit I could intuit from the preview affected my viewing experience. For better or worse, it belongs on this list.
The second season story
When the CliqueClack team was discussing the finale this week, someone asked me what I thought was going to happen. They couldn't kill off one of the stars of the show, right? Honestly, that is what I always thought was going to happen. Season two would be Carrie, Saul and the rest of the CIA confronting some new threat to our country's safety. Brody would be dead or imprisoned, but wholly irrelevant to the ongoing story.
Now, I'm not entirely sure what the show will be about going forward. Will we get a little West Wing-style political intrigue? Nick Brody, working to avenge Issa's death from inside the government by … what? Blocking legislation? Blocking pork barrel spending in the VP's home state? A neutered terrorist is a considerably less interesting terrorist, at least in my book.
I will hold my tongue on Carrie's status. The producers have stated that they have a plan for getting the ex-agent back in the spy game, and I can see a couple of different logical scenarios to get her involved again, so I'll give them the benefit of the doubt – for now. Allowing her to walk back into Langley is one thing; coming up for a plausible reason for her to stay is another story.
Nicholas Brody, leading man
I know some viewers connected with Brody during the course of the season, but I could not. I've been a fan of Damian Lewis since the first time I watched Band of Brothers, but I found it difficult to watch him here. That is not a comment on his work as an actor; no, he did phenomenal work worthy of the cast that surrounded him. No, I just hate Nick Brody. People say that there is some ambiguity in him, that he might not be a traitor because he did not go through with his mission. I disagree; in fact, I never doubted it. When, after the first couple of episodes, others debated whether or not he had been turned, I felt that it was obvious.
I'm so disgusted with what this character would do, and had done, that I really cannot connect with him anymore. This is the kind of character that I'd much rather see sitting in a jail cell as I watch the hero of the show, Carrie Mathison, kick a little ass, saving the world for you, me, and both sides of her bi-polar personality.
If you loved the finale, as it seems most people — and just about every television critic on the planet — did, my goal wasn't to change your mind. I'm happy as I can be that you and your show will live happily ever after. No, my only intent today was to give voice to those of us that were disappointed in what happened Sunday night. The only response I've seen to those of us that share that opinion is one of incredulity — that we "don't get it." I contend that we were smart enough to "get" the show — we certainly were quick-witted enough to enjoy the first eleven episodes. In the end, Homeland simply turned out to be a different show than we thought it was, that we invested our time and appreciate into. And that, from my point of view, kind of stinks.
Photo Credit: Showtime