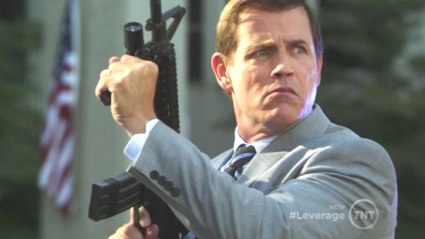 Debbie:
I've really been enjoying this second half of Leverage's fourth season. "The Office Job" was so well-played on all fronts that I can't believe I didn't write about it. Then, the "Girls' Night Out Job" followed by the "Boys' Night Out Job" were tons of fun. The writers are trying some different things this season, and for me, it's working to breathe some new life into ths series that was near-perfect in season one and just hasn't been able to live up to that thus far.
After the penultimate episode ending on such an exciting note this past Sunday (Bringing us back to the pilot episode? Brilliant!), I figured it was time for the CliqueClack team to dig into Leverage, for better or for worse.
Ivey:
Let me ask a question: Was the second season as bad as I remember it being, or was it just bad in comparison to the awesomeness of the first season?
Regardless of the answer, the show has never lived up to the promise it showed in the first season. Things have definitely gotten better, but I'm still left wanting. Sure, they are playing the Parker/Hardison relationship nearly perfectly, but I couldn't be more bored with the idea of Nate and Sophie if I tried. And what about Eliot? From a character development perspective, they've given Christian Kane almost nothing to work with in four season.
Despite these complaints, though, I still enjoy the show quite a bit. I just remember how good the first season was, and go all sad face.
Debbie:
I'm in the same boat as you, because I'm not sure of the answer. When I go to epguides and look back at the season two episodes, I remember some of them fondly. So does that mean season three was the real clunker?
The crime about Christian Kane's neglected character development is that he's so, so good … my guess is that the amazing quirks that Eliot does have were brought to the table by Kane and not the writers. I think part of it too, is that there is supposed to be an air of mystery surrounding Eliot. I've said it before, and I'll continue to say it (probably long after the series is off the air): the season one flashbacks were gold and I can't imagine why they were dropped entirely.
And speaking of character development and dropped, remember Nate's heartbreaking storyline and flashbacks from season one? Now he's just a drunk having sex with Sophie. No growth (although this last episode with his father hinted that there could be some coming).
But back to the fourth season — aside from the episodes I've already mentioned, is there anything else they've done right? How do people feel about the possibility of the nearly non-existent story arc wrapping in the last two episodes?
Ivey:
Like I said, I've really enjoyed the developing relationship between Parker and Hardison. The two of them really have a cute chemistry, and I'm happy with the deliberate way the story has been crafted.
As far as the (ha!) overarching storyline goes, I just go out of my way to ignore it. Each time Leverage has tried to do one, it hasn't ended well; or begun well … or did the middle well, for that matter.
Brittany:
I guess maybe I'm in a different boat than the rest of you — I never felt let down after season one. Sure, it's not always been the best, but Leverage for me has most of the time felt like a nice bit of Sunday night escapism.
Season four thus far has been really fun for me. Like Deb, I'm really enjoying the break in format, which I think has helped the show (any show at this point in its life starts to fall into at least some aspects of a formula). Loved "Office Job" and I think "Boys' Night Out" was a bit better than "Girls' Night Out," but both were interesting.
But even going back to before the break, the season's had some great episodes and moments within those episodes. I loved "The 10 Li'l Grifters Job" with its murder-mystery party, and I think one of my all-time favorite episode has to be "The Van Gogh Job" with the flashbacks to the love story and some phenomenal performances by Aldis Hodge and Beth Riesgraf. It seems like Aldis in particular has gotten a lot to do this season and that's great, because he's really talented.
On that note, the show has a great cast, and as long as it remembers to take proper advantage of that, then it should be around for awhile longer.
Debbie:
Brittany, I agree about the Sunday night escapism, but I guess I'm left a bit empty because Leverage showed us in season one that it could be so much more. I also loved "The Van Gogh Job," and the guest casting of Danny Glover was divine.
Ivey, you forget about season one's Sterling, I'm sure, or you wouldn't say that the overarching storyline failed. Sterling!
Ivey:
I didn't really forget about Sterling … I think as they've continued to use him in subsequent seasons, he's become increasingly less interesting. Further attempts with Goran Visnjic's Moreau or Leon Rippy's Latimer have been equally boring — in fact, with a hypothetical million dollars on the line, I couldn't tell you anything about his storyline. I can't come up with any of his motivations or even the endgame of the plot arc. I'm sure that not exactly what the producers had in mind.
Now bringing back Saul Rubinek's Victor Dubenich could be a horse of a completely different color — but only if this plot arc extends beyond the season finale (keep in mind for a second that Dubenich being the puppet master completely marginalizes Latimer). If the audience had known for several weeks that the team's first victim was pulling the strings, causing their world to tighten down on them, it would have made so much more of an impact when Jimmy Ford was killed. Create an enemy whose menace is a match for Nate's resourcefulness, and you've got something really interesting. I hope that's where this storyline is going, because if Dubenich is defeated in the finale, it would be a complete waste of a pretty awesome idea.
One episode left until the finale … how are you feeling about Leverage's fourth season? Leave a comment!
Photo Credit: TNT