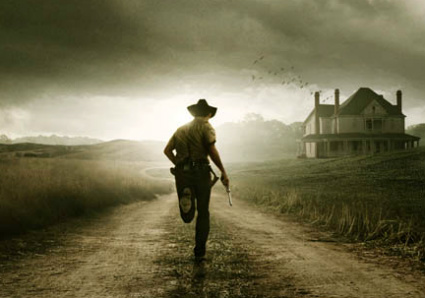 We knew Season 3 of The Walking Dead was already on order … we just didn't know how many episodes it would consist of.
Popular opinion was 13, the obvious go-to assumption based on Season 2's order. But AMC just announced from the Television Critics Association Press Tour that Season 3 will consist of 16 episodes.
Yes, yes, yes … AMC knows it has a critically acclaimed series on its hands. Critics here and abroad are raving. The fans are rabid, vocal and giddy. And everything appears to be thrusting along on all cylinders despite shake-ups and rumors and more.
But … here's the question: Could putting 16 episodes on the books be a little much, compromising the quality of the show everyone expects?
Don't get me wrong — as a fan myself, I'm happy as a dog with two tails about the news. But let's cap the season right there at 16 airings. The Powers That Be have their hands full as it is; the last thing anyone wants to see is the show stoop to shoddiness or lose any steam because of the added burden.
In other words, let's not go to the well too many times. There's nothing wrong with a little anticipation from season to season … even if those long stretches of months seem intolerable.
Just my opinion.
Photo Credit: AMC