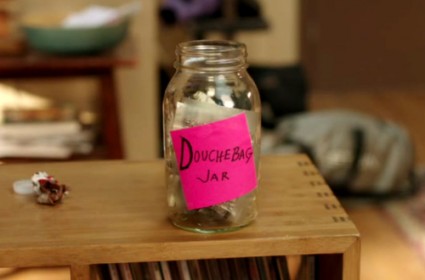 The formula for this episode of New Girl is a tried and true one — a "the end is the beginning" series of chopped up chronological segments leading to the final moment where Schmidt finds himself stuffing a $50 dollar bill into the Douchebag Jar. (Woot! The return of the Douchebag Jar! Everyone should have a douchebag jar!)
And that reason? Rather a disappointing one, wasn't it? I mean, yeah … attempting to kiss Jess was a major mistake, but it wasn't worth a $50.00 violation in light of all the other douchey exclamations he made throughout the episode.
But the 22 minutes itself was anything but disappointing. And really, there's nothing I can write that's going to compare with some of the hilarious quotations that came out of "The Story Of The 50″ … is there?
Quotes:
"When I work out? Which isn't much? It's to Huey Lewis. …" — Nick, drunk, confessing
"You are not emotionally, mentally and spiritually prepared to throw these D-bags a party." — Nick to Jess about throwing Schmidt a birthday party
"Hi! Yes! I'd like to order a last minute stripper? Oh, um … preferably of Asian Heritage …very bendy … with a heart of gold … and a crotch of gold … yeah, I'll hold. … " — Jess on the phone
"Yes! I just hired my first stripper! Anything else I should get?" — Jess to Winston after hiring her first stripper … wondering if there is anything else she should get … for Schmidt's party
"You are going to love it … I do wet towel tricks. …" — Stripper (Matt Bessar) to Schmidt on the party bus
"Someone's personalized condoms just came in the mail. …" — Schmidt to Jess
"Hey! Jar! $20.00!" — Jess
"Winston … did you know that N.W.A. didn't stand for "never walk alone" … ???" — Schmidt to Winston
"$30.00! Jar!" — Winston
"Hey, Nick …" — Schmidt, walking into the room wearing a wife beater and a 1920's newspaperboy cap
"No! Jar, Schmidt! Jar … !!!" — Nick
"Oooo, Jess! I just found a Groupon for hypnosis lessons! Think about what you can do with that … sex stuff. …" — Schmidt
"Jar! — Jess
"Look, guys: Has anyone seen my good peacoat?" — Schmidt to anyone
"Jar! — Winston
"Have you seen my shark skin laptop sleeve?" — Schmidt
"Jar!" — Nick
"Darn it! Has anyone seen my croquette cleats?" — Schmidt
"Hey, Jess? Have you seen my other timepiece?" — Schmidt
"Nick! I came up with the best name for an uncircumcised penis: 'Bishop in a turtleneck'. …" — Schmidt
"Yech! Jar!" – Nick
"Damn it! I can't find my driving moccasins … anywhere!" — A really angry Schmidt to anyone
Notes:
Photo Credit: Fox