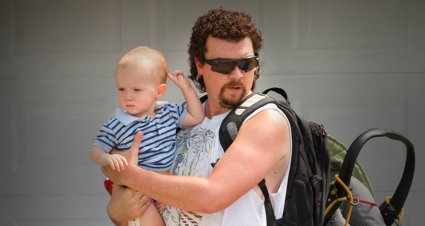 FOX - Considering that American Idol (16.1m/5.1 – 15.6m/4.5) is working on its 11th season, some slippage in the ratings is to be expected. But it still comes as something of a surprise to see the show finishing in third place for the week as both The Voice and Big Bang topped Idol in the demo, while NCIS and Big Bang took the top two spots in viewers. Elsewhere, House (7.08m/2.4) continued to slide slowly into history while the waters got murkier for the future of Alcatraz (5.98m/1.8).
Tuesday's lineup of Glee (7.46m/3), New Girl (6.27m/3), and Raising Hope (4.73m/2.1) remained steady, with the Raising Hope number continuing to be cause for concern. The Finder (6.18m/2) also continues to have some numbers issues. The week also included another round of animation domination - Simpsons (5.77m/2.6), Napoleon Dynamite (4.41m/2), Family Guy (5.47m/2.8), American Dad (4.43m/2.2) – and finished with Fringe (3.09m/1.2).
NBC - The Voice (16.04m/6) remains the big story, but the peacock also got a little boost to Sunday with the premiere of Celebrity Apprentice (7.42m/2.6). Unfortunately, the good news didn't extend to week three of Smash (6.47m/2.3). The show continues to bleed viewers, and doesn't look good in our Event comparison, especially when you consider that The Event was following the dead last Chuck.
| | | |
| --- | --- | --- |
| |  Smash |  The Event |
|  1 | 11.44m/3.8 | 10.88m/3.6 |
|  2 | 8.06m/2.8 | 9.06m/2.9 |
|  3 | 6.47m/2.3 | 7.56m/2.4 |
The rest of the week brought the usual disappointments. Biggest Loser (6.63m/2.3) looks ok by comparison, but remains a shell of what it once was. Parenthood (4.91m/1.7), SVU (5.99m/1.6), and Grimm (4.75m/1.5) show that there is no traction in the drama department. And The Office (5.02m/2.6), down more than half a point from last season, remains the only reasonable performer in comedy. Whitney (4.11m/1.5), Chelsea (3.38m/1.3), 30 Rock (3.7m/1.5), Parks & Rec (3.43m/1.7), and Up All Night (3.42m/1.7) are all well below acceptable levels.
CBS - It was another solid week all around, headlined by another great result for Big Bang Theory (16.2m/5.3). That was joined by a number of solid performances, including Amazing Race (10.34m/2.8), How I Met Your Mother (9.68m/3.8), 2 Broke Girls (11.37m/4), Two And A Half Men (13.33m/4.2), Mike & Molly (11.33m/3.4), Hawaii Five-O (10.4m/2.9), NCIS (19.29m/3.6), NCIS LA (15.47m/2.7), Survivor (10.29m/2.8), Criminal Minds (12.78m/3.1), CSI (11.91m/2.9), Rob (10.33m/2.9), Person Of Interest (14.56m/3.1), The Mentalist (13.36m/2.6), and Blue Bloods (11.18m/1.7).
There are a few problems with the CBS schedule, but they are not really drastic. Awards still haven't brought numbers for The Good Wife (9.73m/2.1), and CSI Miami (10.03m/2.2) should be capable of a little more on Sunday. Tuesday, Unforgettable (10.7m/2) is continuing the sad trend of that time-slot. And Friday, Undercover Boss (8.63m/1.9) took a noticeable week two hit, as A Gifted Man (9.07m/1.3) inched closer to being a one season complete series DVD set in the not so distant future.
ABC - It was another rather slow week as ABC is counting time until the next season of Dancing With The Stars brings a boost to the schedule. The standouts remain Modern Family (11.54m/4.8) and Once Upon A Time (9.84m/3.1). Most surprising there is OUAT topping Grey's Anatomy (9.06m/3.1), which is starting to show signs of advanced age. It's not to Desperate Housewives (7.65m/2.2) levels yet, but we are getting closer to the end of the line for Grey's. Although, not nearly as close as we are for Pan Am (3.77m/1.2), which just had what we can all consider a series finale.
The Bachelor (8.18m/2.5) remains solid, if uneventful, and the folks over at Castle (9.73m/2.1) are probably really excited about that DWTS return. Tuesday has really fallen as Last Man Standing (7.46m/2.2) hasn't lived up to the early promise while Cougar Town (4.49m/1.7) is showing why it lost that Wednesday spot. Fans of The River (4.8m/1.7) should be hoping for some kind of wrap-up to this short season, because I doubt will see a V-style reprieve for that one. Anchoring the night, Body Of Proof (6.64m/1.5) remains an also ran at third in the demo.
With the full competition of Idol and Survivor, the shine is off the rest of the Wednesday comedy lineup. The Middle (7.48m/2.2), Suburgatory (6.76m/2.3), and Happy Endings (5.45m/2.4) are all down, but there is enough promise there, and problems elsewhere, to think the night is pretty solid moving forward. Before They Were Famous (4.82m/1.4) was a poor replacement for Revenge, finishing the night. The rest of the week included Wipeout (5.03m/1.5) and Private Practice (6.32m/2.1).
CW - Did you ever think we'd be talking about less than a million viewers for Gossip Girl (1m/.5)? We are this close to that becoming a reality. That number makes the Hart Of Dixie (1.57m/.6) and Ringer (1.25m/.5) results look a lot better. And it leaves me kind of marveling at the staying power of One Tree Hill (1.43m/.8). In its ninth season and finishing a week as the highest rated show on the network. Granted, it was a week with Vampire Diaries in repeats, but still… The other new entry was Remodeled (.71m/.3).
CABLE - It was another week of domination for The Walking Dead (6.89m/3.6). Forget cable, that 3.6 demo would put the show in the top ten on the broadcast networks. It heavily overshadowed the biggest premiere on cable last week, HBO's Eastbound & Down (1.27m/.9).
Basic

Pretty Little Liars (2.54m/1)
Being Human (1.43m/.6)
The Lying Game (1.31m/.6)
Lost Girl (1.21m/.4)
White Collar (2.31m/.7)
Justified (2.02m/.8)
Switched At Birth (1.79m/.8)
Southland (1.64m/.6)
Jane By Design (1.35m/.6)
Royal Pains (3.16m/.8)
Archer (1.27m/.8)

Unsupervised (.6m/.3)
Comic Book Men (1.44m/.8)
Pawn Stars (5.54m/2.1)
Teen Mom II (3.02m/1.7)
Top Shot (1.49m/.7)
Top Chef (1.79m/.9)
Face Off (1.73m/.8)
Jersey Shore (5.23m/2.9)
Project Runway (1.96m/.7)
After The Runway (.94m/.3)
24 Hour Catwalk (.52m/.2)

Premium

Shameless (1.41m/.8)
Californication (.71m/.4)
Luck (.45m/.2)
Photo Credit: HBO