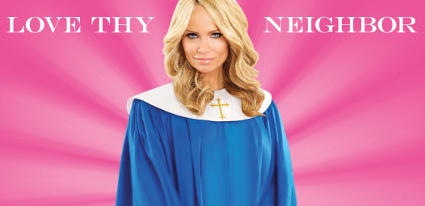 FOX - The big story with FOX last week was the premiere of the new comedy block on Tuesday, featuring Raising Hope (4.74m/2.1), I Hate My Teenage Daughter (3.74m/1.6), New Girl (6m/3), and Breaking In (3.6m/1.7). Yes, one of those things is not like the other. It's pretty obvious that New Girl will be back, but the jury is certainly still out on the rest. Raising Hope does get a point for holding its audience even though it led off the night. But I Hate My Teen and Breaking In are in trouble.
Earlier in the week, things started off with animation domination – Simpsons (5.09m/2.5), Napoleon Dynamite (4.05m/2), Family Guy (5.33m/2/8), American Dad (4.29m/2.1) – before handing off to a double-shot of Alcatraz (5.82m/1.9 – 5.47m/1.8). The announcement that Terra Nova has been given the boot doesn't really help when Alcatraz keeps turning in those numbers. The rest of the week included more American Idol (18.69m/5.7 – 17.27m/4.9) and the final Thursday edition of The Finder (7.08m/2.3). Now the fun begins as we see what happens with its move to Friday.
ABC - The week started strong with Once Upon A Time (10.67m/3.4) finishing as the #1 show for the night in both measures. That led into another Desperate Housewives (8.21m/2.5) and the premiere of GCB (7.56m/2.2). While that GCB number is a noticeable improvement over the recent Pan Am results, it's also lower than the Pan Am premiere… Not exactly cause for celebration. Monday brought the usual result for The Bachelor (8.19m/2.5).
Then came the Tuesday of Cougar Town (4.33m/1.5) and The River (4.21m/1.5). I think the ship had already sailed on The River, but Cougar Town did still have some small hope of another season. At that number though, with no NCIS and facing the sure to be axed I Hate My Teen? Adding to Cougar Town's woes was the performance of Happy Endings (4.49m/2), also without a new lead-in. That's not a great number, but does seem to confirm that the network made the right choice there. And it looks even better next to the time-filler Revenge For Real (5.03m/1.4).
NBC - Celebrity Apprentice (6.67m/2.3) bounced back from an off week before handing off to The Voice (16.85m/6.2). Even better, Smash (7.76m/2.7) has moved solidly ahead of The Event. It was with no new competiton from ABC or CBS, but given the state of things at NBC, any show that is knocking down a 2.7 is sitting pretty well. That actually made Smash the #1 scripted show for the network last week.
| | | |
| --- | --- | --- |
| | Smash | The Event |
| 1 | 11.44m/3.8 | 10.88m/3.6 |
| 2 | 8.06m/2.8 | 9.06m/2.9 |
| 3 | 6.47m/2.3 | 7.56m/2.4 |
| 4 | 6.64m/2.3 | 6.5m/2.2 |
| 5 | 7.76m/2.7 | 6.42m/2.2 |
Following the success of Monday was the usual collection of disappointments. The Biggest Loser (6.03m/2) remains down over past seasons while Whitney (4.23m/1.6) and Chelsea (3.62m/1.5) have never gained any real traction on Wednesday. Thursday is more of the same where The Office (4.89m/2.6) stands alone. 30 Rock (3.42m/1.4), Parks & Rec (3.66m/1.8), Up All Night (3.44m/1.7), and Awake (4.33m/1.6) all remain below acceptable levels. The one glass half-full result at the end of the week is Grimm (5.15m/1.5), which makes it the second most watched scripted show on the network.
CBS - It was a slow week that started with the usual Sunday of Amazing Race (10.3m/2.8), The Good Wife (9.83m/1.9), and CSI Miami (10.14m/2.1). Survivor (10.78m/3.2) followed on Wednesday, but the most interesting bit came Thursday, from Big Bang Theory (15.04m/5.1). That's a great number, but not the most interesting part. Instead, check out the Big Bang repeat (12.41m/3.9) at 8:30. That 3.9 trailed only The Voice and Idol on the other networks. Thursday was capped by another solid Person Of Interest (15.67m/3.4). And the week finished with a Friday that included a special Mentalist (11.83m/2) joining Undercover Boss (10.02m/2.2) and Blue Bloods (11.27m/1.8).
CW - There were only four unremarkable entries on the CW schedule last week - 90210 (1.26m/.7), Ringer (1.25m/.5), One Tree Hill (1.47m/.7), and Next Top Model (1.32m/.6).
CABLE - The big premiere for the week was the return of Breakout Kings (2.12m/.8), which featured an ending that I certainly didn't see coming. Not unlike the ending to The Walking Dead (6.77m/3.5), which remains the big story on cable.
Basic

Army Wives (3.63m/1.2)
Pretty Little Liars (2.58m/1)
Being Human (1.4m/.7)
Lost Girl (1.21m/.5)
Justified (2.16m/.8)
The Lying Game (1.24m/.5)
Southland (1.96m/.6)
Switched At Birth (1.21m/.7)
Jane By Design (.49m/.5)
Psych (2.86m/.9)
The Game (2.45m/1.3)
Let's Stay Together (1.68m/.8)
Hot In Cleveland (1.82m/.5)
Happily Divorced (1.44m/.4)

Archer (1.04m/.5)
Unsupervised (.53m/.3)
Storage Wars (4.18m/1.6)
Comic Book Men (1.52m/.8)
Full Metal Jousting (1.31m/.6)
Pawn Stars (5.46m/2.2)
American Pickers (5.8m/1.7)
Top Shot (1.61m/.7)
Face Off (2.27m/1)
Top Chef Reunion (1.04m/.5)
Swamp People (5m/1.9)
Jersey Shore (4.84m/2.8)
Project Runway (2.01m/.7)
After The Runway (1.04m/.3)

Premium

Eastbound & Down (.88m/.5)
House Of Lies (.82m/.4)
Luck (.69m/.2)
Californication (.67m/.3)
Shameless (1.6m/.8)
Photo Credit: ABC