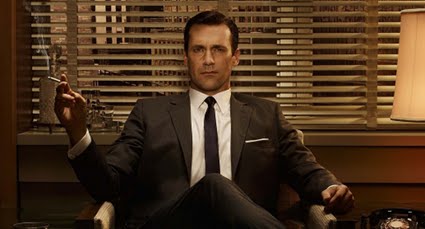 CABLE - After a long, long, wait, fans of Mad Men (3.54m/1.2) finally got a look at season five of the show. As expected, that is nowhere near the numbers that The Walking Dead has been pulling in over the last couple months. On the bright side… that is well above the 2.44m/.8 the show garnered for the season four finale and makes this the most watched episode of the series. It would seem that putting the first four season on Netflix and/or all of that promotion on the hottest show on cable has strengthened the show. For a week anyway. We'll have to wait and see how this season plays out. If it can stay around those levels, the show does look pretty good against the other current cable dramas in the list below.
Basic

Army Wives(2.7m/.8)
Breakout Kings (1.27m/.5)
Secret Life Of The American Teen (2.51m/1.1)
Make It Or Break It (1.57m/.7)
Being Human (1.25m/.6)
Lost Girl (1.08m/.5)

Justified(2.49m/.9)
South Park (2.7m/1.5)
Psych (2.36m/.8)
The Game (2.52m/1.3)
Hot In Cleveland (1.92m/.5)
Happily Divorced (1.35m/.3)

Premium

Shameless(1.51m/.8)
Eastbound & Down (.98m/.6)
Californication (.73m/.4)
Luck (.44m/.2)
House Of Lies (.72m/.4)
NBC - The peacock had the most active schedule last week, just one half hour short of a full pull. That makes it all the more disturbing that the network managed to finish fourth in the demo on five of six nights. Monday, with The Voice (12m/4.5) and Smash (6.14m/2.1) was the lone exception. The rest of the week was pretty bad, starting with another bizarre performance from Harry's Law (8.09m/.8). That, again, places it first in viewers for scripted programming on NBC, and dead last in demo. Celebrity Apprentice (6.04m/1.8) remains down this season, but gaining a full point out of Harry's Law is at least something.
Moving along… The Biggest Loser (5.65m/2) slipped again with the introduction of Dancing With The Stars to Tuesday. That didn't help Fashion Star (4m/1.5), which took a hefty tumble after the encouraging second week performance. Wednesday might bring the most interesting number of the week, in the form of Whitney (4.09m/1.6). The show again registered as the most watched comedy on the network, and finished second in the demo. When it comes time to send out pink slips, that should come into play. As for the rest of the Wednesday lineup, the writing is on the wall for Chelsea (3.08m/1.2) and Bent (2.56m/.9 – 2.34m/.8).
If Whitney's finale performance wasn't the most interesting number of the week, then the averages for Thursday (3.06m/1.3) were. Granted, that included an Office repeat, but still… The once dominant NBC Thursday barely made three million viewers, and finished a tenth ahead of Vampire Diaries in the demo. That was with the lineup of Community (3.48m/1.7), 30 Rock (3.14m/1.5), Up All Night (2.92m/1.3), and Awake (3.18m/1). It's great bad news for Community fans. The numbers are still horrible, but it would appear that the show is taking the position of the lesser of four evils on the night. The week finished with Grimm (4.16m/1.2)
FOX - There were some troubling bits exposed with the FOX lineup last week. Bob's Burgers (3.97m/2) and American Dad (4.28m/2) were left alone on Sunday, bringing noticeable drops, but those numbers are probably good enough to see both shows through to another season. That's especially true when you look at some of the other problems. Like Alcatraz (4.78m/1.6 – 4.75m/1.5). The only question the big finale really answered was that this show is not the replacement for House.
Tuesday brought it's own bag of stank. The idea of a two hour comedy block can now be officially declared a giant failure. Raising Hope (3.81m/1.5) is sinking at 8, while a whole lot of the shine is off New Girl (4.96m/2.6) without the help of Glee. And Breaking In (2.7m/1.4) is just a disaster. It looks like they were right the first time they canceled it.
Of course, the network does still have American Idol (17.87m/5.3 – 15.87M/4.4), which helps. But that leads us to another curious result. Week two of Touch (8.92m/2.7) looks a little soft, especially considering Grey's Anatomy was a repeat. That's still a good number, but considering the timeslot, and that it's only the second episode, it is cause for some concern. Finally, Fringe (3.11m/1.2) closed things out on Friday.
ABC - All the eggs were in the front half of the basket this week. Sunday brought a full lineup of Once Upon A Time (8.82m/2.9), Desperate Housewives (8.81m/2.6), and GCB (6.22m/2.1). It looks like GCB is settling in at that number. Monday brought more of the same. Dancing With The Stars (17.96m/3.2) and Castle (11.87m/2.3) are both well down from this time last year, but still make for a good night. The same can be said for Tuesday, with the DWTS Results (15.74m/3.1) and Body Of Proof (9.72m/2). Although, I have my doubts about whether that is going to be enough to save Body Of Proof. The only new entries for the rest of the week were Happy Endings (4.13m/1.9) and Missing (7.87m/1.5). Those results are doing nothing for the cause of either show.
CBS - Things started normally with Amazing Race (9.35m/2.6), The Good Wife (9.77m/1.8), and CSI Miami (9.29m/2.1). And after taking Monday off, they continued that way on Tuesday with NCIS (18.67m/3.5), NCIS LA (14.75m/3.5), and Unforgettable (10.51m/2.1). That is slightly off the year-ago pace for the Navy cops. Unforgettable, on the other hand, is ahead of where The Good Wife was in the Tuesday at 10 slot last year. But without a whole lot of awards buzz, that's probably not enough.
Survivor (9.99m/2.9) was uneventful flying solo on Wednesday. And it was business as usual for a full Thursday lineup of Big Bang Theory (13.96m/4.7), Rules Of Engagement (8.65m/2.7), Person Of Interest (14.59m/3.3), and The Mentalist (13.62m/2.7). The week finished with a the Friday team of Undercover Boss (8.1m/1.8), CSI NY (9.44m/1.6), and Blue Bloods (10.6m/1.6).
CW - An 80% schedule was 100% disappointing. There just are no bright spots for the CW at this point. Everything is down. Even Vampire Diaries (2.44m/1.2), while still the most successful show, and the only one to crack a 1 in the demo, was hitting lows. The rest of the week included 90210 (1.27m/.7), Ringer (1.11m/.5), One Tree Hill (1.34m/.7), Next Top Model (1.38m/.7), Secret Circle (1.33m/.6), Nikita (1.32m/.4), and Supernatural (1.72m/.7).
Photo Credit: AMC