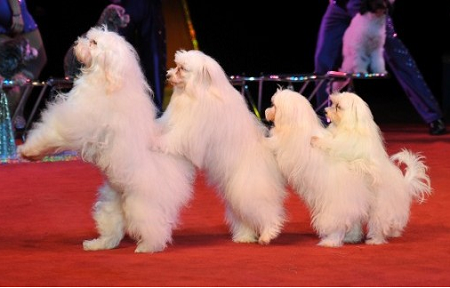 This second week of AGT, put new judge Howard Stern to the test when he had to judge a seven-year-old rapper who didn't have the talent yet to move on the competition (see his performance in one of the videos below). The rest of the episode was same old, same old: some good acts, some bad acts, some awful acts that got a pass to the next round (I'm talking about you, Horse and Burton), and some jawdropping acts such as from the Olate Dogs pictured above.
Some of the acts not going through:
– Awwwwwwwwww … seven-year-old rapper Mir Money cried because of the mean judges! This young rapper, with four years experience in rapping, has connected well with the crowd. However, his rapping was not up to par for such a talent search. After being Xed by Howard and Sharon, Mir Money stopped his performance and looked rather angry at the situation even though he claims he wasn't. As soon as Howard started to give his comments — starting with how nice and brave Mir Money is — the kid started to cry. This situation shook Howard, as it was the first time thus far he had to give bad news to a kid who didn't take it that well. Howard went on-stage to cheer Mir Money up. Once done, Howard claimed that this job was too hard and that he didn't want to do it anymore. Of course, we all knew that Howard would not quit his AGT gig. So to spare Mir Money's feelings a bit, the judges didn't give more comments and made their yes/no decision once Mir Money was off the stage. As expected, he is not going to the next round. You can check his performance and Howard's "traumatic" experience in the clip below.

Mir Money, 7 Auditions New York ~ America's Got… by HumanSlinky
 The other acts not going through were all bands that failed to win the crowd and judges over as their music was too messy or just plain awful.
The Worst of the Worst: Can you believe that 25-year-old Horse was voted through to the next round? Not only was it the worst act of the night in my opinion, but it could also fall in my "I can't believe this act is going to Vegas" category below. Being kicked in the nuts and not feeling pain is NOT a talent. Yes, it was midly entertaining but it was gross and painful to look at. Who would want to attend an entire show where the performer is being hit on the nuts? Looks like Howard, Howie, and Sharon, would. At least Jackass offered more diversity!
Some of the acts going through:
– The Flyte Cru defied gravity by using trampolines to make some rather impressive basketball shoots. However, they received mixed reactions from the judges: Howie voted no as, despite being good, they are not original and not that slick; Howard agreed that it's not new but they raised the bar. Sharon broke the tie and gave The Flyte Cru the needed "yes" to go to Vegas.
 
The Flyte Cru, Auditions ~ America's Got Talent… by HumanSlinky
– Performing after two bands who have been Xed by all judges is not an easy task. Wordspit, the Illest!, raised up to the challenge and wowed the judges and the crowd with their unique music described as "Jay Z meets Pink Floyd" by Howie.
– Other acts going through the next round are: Max, who chanelled his inner Tarzan during hisperformance; a dance troops who master clogging; and Jason, an impressive young pianist.
The "I can't believe this act is going to Vegas" act: Can you believe that all three judges said "yes" to Burton Crane's performance?! Yes, this 77-year-old is quite the character and is unique. However, his rapping was awful and the music coming out of his old Casio keyboard was annoying as hell. Why was he voted through when Mir Money, who rapped slightly better than Burton, was sent packing?! "What you gonna do" about it?! Let's hope that the judges will see the light during Vegas Week and remove Burton from the competition. If you have five minutes to waste and want to be stuck with "what you gonna do?" in your head for days, head to NBC.com to watch the video of this performance.
The Show Stealers: The Olate Dogs rocked the stage with unique and entertaining moves such as the one pictured in the image on top of this post. Dogs were also able to jump like kangaroos, do rope jumping, perform backflips, and much more! Howie and Sharon claimed that this was the most amazing animal act they've ever seen.
What was your favorite act of the night? Which act was the worst of them all? Share your two cents in comments below.
Photo Credit: olatedogs.com