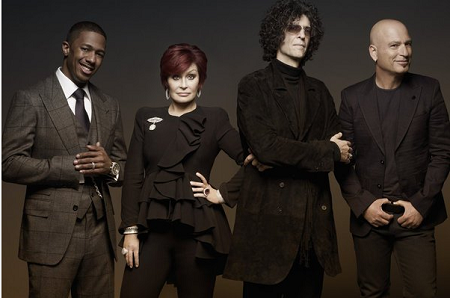 Some of the acts not going through:
– Thank you Sharon for breaking the tie with a big fat "no." The Savage Men did have the looks but not the moves. Their routine was way too basic and not that sexy. Heck, even Howard could perform most of those moves! For those of you who missed the final minutes of the episode, head over to NBC.com … not for The Savage Men's performance but for Howard's dance routine on stage during the comments section of the performance. It was awfully funny!
– Some of the other acts sent packing were roller skaters/dancers Holly and James, the confusing "Lost in the Jungle" mime act, and the terrible singer/guitar player whom Sharon thought was a roadie from the Sex Pistols.
The Worst of the Worst: 23-year-old Ronald Charles offered us a really bad dance and singing routine … if you can call that dancing and singing! His dance moves were a bit silly and his voice was terrible. He rightfully got Xed by all three judges. This prompted Howard to do a sort of intervention so that Ronald would see the light and find another dream (Ronald did mention he was working on a show to be performed all around New York.) More about this intervention in the "Show Stealers" section below.
Some of the acts going through:
– For those keeping tabs, comedian/ventriloquist John Pizzi did audition last year on AGT but he didn't go far. You can see his Season 6 audition below. Luckily this year, he upped his game by using technology to his advantage. His "puppets" were virtual versions of the judges and he was controlling the movement of their lips. John wasn't able to mimic the judges' voice but this didn't take away from the act due to the fun jokes he inserted in. The funniest part was surely what he had the virtual Howard say "Howie, me and you? Deal or no deal?" and then showed what a Howard-Howie baby would look like! John was rewarded with three yeses from the judges.
– Comedians were on a roll tonight as stand-up comedian Tom Cotter was also voted through thanks to some slick and well-timed jokes about his childhood and neighborhood. Howie and the crowd gave him a standing ovation, and Howie even added two thumbs up. Howard said that he genuinely laughed during the performance. Watch his funny performance in the clip below.

Tom Cotter, 48 ~ New York Auditions, America's… by HumanSlinky
– The touching story of the episode was that of Stepz: His parents were drug addicts and when his grandmother asked his mother to choose between drugs and raising Stepz, she chose the drugs, so Stepz was raised by his grandmother. Luckily, his mother is now clean and they have reconnected. Stepz offered us an impressive dance routine that included a few unusual moves. That guy has amazing control of his body to make such moves. His performance divided the judges as Howard agreed that Stepz was talented but he wasn't sure this is the type of act people would pay for. On the other hand, Howie believed that there is an audience out there for this type of act. Sharon had once again to break a tie and voted him through to Vegas. Howard was not happy and pouted a bit!
– Other acts going to Vegas include a girl dance group, girl band Ivy Roses, and a drag queen with an amazingly powerful voice.
The "I can't believe this act is going to Vegas" act: I think this is a first for me since I've started reviewing AGT during Season 2, but I agreed with all the decisions the judges made tonight!
The Show Stealers: You have to admit that the person who stole the whole show is not a performer who auditioned for AGT. The show stealer was none other than Howard's father. It was hilarious when Howard asked his father to tell Ronald Charles to quit his dream of being a dancer/singer as he had no talent in that field. Howard's dad told Ronald something he used to say to Howard: "Don't be stupid, you moron!" Ronald sunk further when Howard and his father's questioning ended up in Ronald saying he graduated from high school followed by a "Yes, Ma'am" in response to a question from Howard! Oopsie! Go at the 1:20 mark in the clip below to watch Howard's dad steal the show.

Ronald Charles, 23 New York Auditions ~… by HumanSlinky
The Best of the Best: If you watched Britain's Got Talent, you might have seen couple Donovan and Rebecca perform a few years back. Back then, they were known as Crazeehorse, but they now go under their real names. Their acro-balance act is nothing new as we've seen other performers like them on AGT before. We even saw a lady support and lift a man in previous years as Rebecca and Donovan did. However, the latter offered a more impressive routine with rather unique moves that we haven't seen in the past. This amazing routine was deemed "fresh and spectacular" by Howard, "a love scene from a scifi movie" by Sharon, and "amazing" by Howie. Check the clip below to watch their breath-taking performance.

Donovan & Rebecca ~ New York Auditions… by HumanSlinky
What was your favorite act of the night? Which act was the worst of them all? Share your two cents in comments below.
Photo Credit: NBC