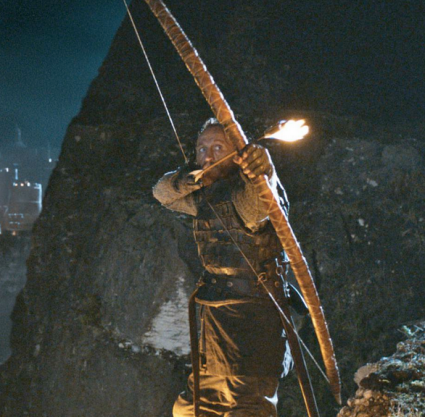 The second season of A Game of Thrones has been building to next week's episode and the attack of King's Landing. It seems that fans of the series – both those who have read the books and those who have not – have been looking forward to the battle. But on the page battles were never the hallmark of A Song of Ice and Fire; should they hold greater importance in the more visual medium of television?
As always, Beyond the Wall is a column for those who have read the book series. There are some specific – though not necessarily critical – spoilers to what happens during the Battle of Blackwater in A Clash of Kings. For those trying stay unspoiled, we recommend skipping this column.
Ivey:
There's been more than a little discussion across the interwebs that this week's episode, "The Prince of Winterfell" was primarily about setting up next week's Battle of Blackwater Bay – in the episode aptly titled "Blackwater." In fact, I believe I read the phrase "moving pieces into place" more than ten times late Sunday evening as I perused the myriad episode reviews from my fellow TV commentary types.
But all of the anticipatory talk of the Battle of Blackwater Bay (including in Carla's review) has me wondering: What's the big deal? For me, it's a simple fact: I don't watch Game of Thrones for the fight scenes. Hell, I don't read A Song of Ice and Fire for the battle scenes either; that's not the point of the series. It's a "Game" of thrones and not a "Fight" for thrones. Do we need a better example than the battlefield wonder that Robb Stark is?
Bob: 
I don't know. First of all, there was very little talk of the ensuing battle in "The Prince of Winterfell." How can that count as "setting up" the battle? If we had seen Tyrion getting troops prepared, loading up wildfire launchers, or getting some chain link together (where has that plot point gone?) I think it would be a fair assessment. It was a character episode, with a lot of character moments. It's not a fast paced show, that's for sure. Anyone who has read the books should not be expecting it to be.
Onto your other point. Yes, in the novels the battles are very often glossed over or only mentioned in dialogue (as they have been on the show to date), but I think it is important for the series to showcase a battle. It's much easier to get away with skipping over things in a novel. It's not a visual medium. Television is a different animal. There is, obviously, a huge visual component and battles can be exciting. What would The Lord of the Rings films been without some of the epic fight scenes?
I feel like a decent (if imperfect) analogy can be made to The Walking Dead. The show is set in a zombie apocalypse, but it's really about the characters dealing with each other and finding ways to survive, much the way Game of Thrones is really about the characters scheming and dealing with each other. On The Walking Dead, though, there is always that threat and fear, and the writers have to throw in a good old zombie throw down every now and then — and the show is better for it.
Ivey:
Well, you had the conversation with Varys, Tyrion and Bronn – and the hilarious bit about no one being able to pronounce a name – as well as a follow up conversation with Varys, Tyrion and Joffrey. Throw in Stannis and Davos sailing on King's Landing with a topper of Tywin marching to the city's defense, and you've got the only kind of "setup" that Game of Thrones is going to do. I too would have preferred more details on the martial preparations – from chain links to wildfire training – but those things apparently aren't going to be as important on screen as they were on the page.
On some level, I agree with you; in the War of the Five Kings, you have to see a battle every once in a while. I can't argue with the fact that we have been talking about war since the middle of last season, but we've seen little of the actual battlefield. Again, though, that's just not what makes this story tick. To me, the story is about the game of thrones played by highborn lords and how most are completely oblivious to affect it has on the small folks. I think that's one of the main reasons – aside from the phenomenal acting – that I've enjoyed the dynamic between Arya Stark and Tywin Lannister the last couple of episodes. These two people are representative of the few players in the game of thrones who actually understand what playing war actually means.
Bob:
Maybe you should just skip this week's episode then?
My biggest beef with this whole battle is that I'm not sure a lot of non-readers care who wins. Stannis is a bit of a jerk and Joffrey is a monster. I think a battle between Robb and the Lannisters would have been much more dramatic. Last season there was a lot of tension at this point in the season. Even I, who knew what was going to happen, was at the edge of my seat. Now? Not so much. I think it just proves that A Game of Thrones was a better book than A Clash of Kings.
Of course the next two seasons are going to be juicy!
Ivey:
It isn't that I dislike a good battle scene; it's just that I don't necessarily think that they are a critical piece of the story. Hell, the things I'm looking forward to next week have little to do with the actual battle itself – especially considering there's no chain. I'm looking forward to Cersei getting loaded, Tyrion rushing into the fray (heh) that stayed even the Hound and the overall outcome of the battle – because you know it isn't going to play out exactly as it did on the page.
But I'm not going to disagree with you about A Clash of Kings; considering all the stuff that goes down in the first book and everything yet to come in the third, this season's story – while great – is the weaker of the first three books.
Photo Credit: HBO