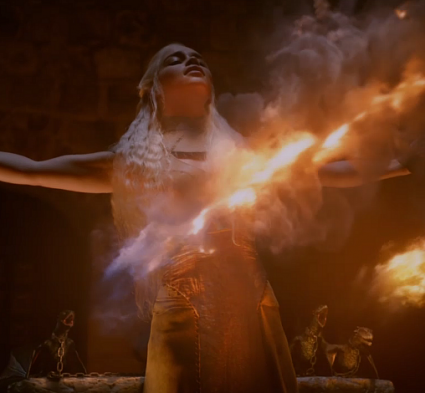 The second season of HBO's epic Game of Thrones has finally come to a close. This year, we've seen everything from battles to bastards, from White Walkers to weddings. "Valar Morghulis" served to wrap up the myriad storylines across Westeros and Essos. The episode has generally been received well, but there is a strong contingent of people who weren't happy with the way things were ended, and perhaps the season in general.
As always, Beyond the Wall is for folks who have already read the A Song of Ice and Fire novels by George R. R. Martin. If you're trying to stay unspoiled for future seasons, this is not the column for you.
Ivey:
All things considered, I thought "Valar Morghulis" was a pretty good episode. Considering that our main characters are scattered across a continent or two and  are involved with several stories that remained unconnected, I think that producers D.B. Weiss and David Benioff did a yeoman's job pulling everything together.
You recently asked me when I was complaining about something or the other – as I am wont to do – why I liked the novels and the show if I have so many problems with them both (Note: Specifically, Bob was giving me a hard time about the fact that I don't particularly like many of the characters that are introduced in the next couple books). There are many ways to answer that particular question – even some that don't involve calling you names – but the one that jumped out at me in the finale was wonderful character moments. The exchange between Pycelle and Tyrion to open the episode was dripping with continuity awesomeness. From the coin that Pycelle gives Tyrion "for his troubles" to the fact that he seemed to be in the non-hunched-over-man mode that we saw hinted at last season, it was a reward for those who pay close attention to everything going on.
Bob:
Indeed. I can understand a bit why folks might be disappointed with the season as a whole (though I thought the finale was an excellent wrap up, and very similar to last season's, when the climax really occurred in the penultimate installment). The fact of the matter is that A Clash of Kings is not as strong of a book as A Game of Thrones. Thrones had such a nice clean story arc for a lot of the characters. Kings seems like Martin really settled in and knew that this was going to be a long series.
I do think there are some aspects that didn't translate as well to the screen. For instance, I believe that the biggest flaw of the season  –and it was not one that the writers could overcome — was that the big climactic event: the Battle of Blackwater. Either Joffrey  — a sadistic megalomaniac — or Stannis — an unlikable megalomaniac — was going to be sitting on the Iron Throne. At least there was Tyrion to root for.
I really enjoyed that the episode very effectively touched on every character — and pretty much every minor character too — and gave a little wrap-up to their stories.
Photo Credit: HBO
This Post Contains Multiple Pages: 1
2